Saratoga Energy-Efficient Home
Is energy-efficient lighting right for the homeowner? "YES IT IS!"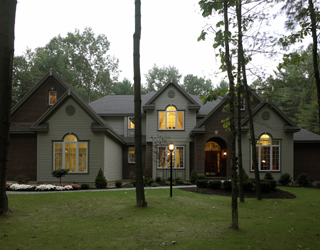 That was the resounding message from homeowners taking part in a demonstration project in Saratoga Springs, NY in the fall of 2002. The LRC conducted the project as part of a lighting transformation initiative sponsored by the US Environmental Protection Agency and ENERGY STAR(®). The project's primary objective is to promote energy-efficient lighting in residential new construction. With the cooperation of Belmonte Builders, this 4000 sq. ft. custom home, part of the "Showcase of Homes" tour, attracted more than 6000 people who wanted to know more about building a beautiful home and saving money too.
View examples of energy-efficient lighting
The LRC minimized the use of recessed incandescent downlights in the demonstration home by using the natural lines of the home and creating coves and valances, making indirect fluorescent lighting the primary ambient source. Warm color temperature linear fluorescents, dimmable in some cases, enhance the home's interior colors and finishes and create interest. Occupancy sensors further reduce energy consumption. As part of the project, the homeowners chose ENERGY STAR fixtures where possible, or fixtures that can use compact fluorescent lamps. Low voltage halogen spotlights and floodlights provided accent lighting. New fluorescent fixtures have virtually no flicker or hum, can be dimmed, provide incandescent-like warmth, and last more than five times longer than incandescent lamps. This minimizes both replacement cost and the need to access hard-to-reach places to change a light bulb.
Of the people surveyed, 79% felt the lighting is above average, more than 80% felt that it makes people look good, and more than 90% felt that the lighting looks warm in color, makes colors and furniture look good, is comfortable, and that they would want this type of lighting in their own homes.

Different Examples of Lighting
Exterior:

The warm glow of……fluorescent?
Entryway:

Will the real incandescent please stand up?
Dining:

Can energy efficient lighting create ambience?
Kitchen:

Can energy efficient lighting be functional and attractive?
Living:

Can energy efficient lighting be multi-functional?
Hallway:

Can energy efficient lighting add interest?
Bedroom:

Can energy efficient lighting look cozy?
Bathroom:

Can energy efficient lighting make you look good?
Study:

Can energy efficient lighting be discrete?
Closet:

Can energy efficient lighting enhance a wardrobe?

Garage:

Can energy efficient lighting look less industrial?


Sponsors and Credits
Project Sponsors:

US Environmental Protection Agency
ENERGY STAR

Site Sponsor:
Belmonte Builders
Donating Manufacturers:

Advance Transformer Co.
Alkco
Bartco Lighting
GE Lighting
Lightolier
Lutron
Osram Sylvania
Philips
Prescolite
Sea Gull Lighting
The Watt Stopper
Westinghouse Lighting Corp.

Supporting Manufacturers :
Dreamscape
Kichler
Photographer:
Michael Kalla