CFL Color Round Table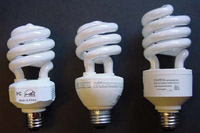 The U.S. Environmental Protection Agency (US EPA) sponsored a round table that was held at the Lighting Research Center (LRC) on February 26, 2004. One of the goals of the round table was to present to the Energy Star Lighting Manufacturers Partners the results of a focus group conducted by the LRC. The LRC, in cooperation with the ENERGY STAR® program under the US EPA and the U.S. Department of Energy (US DOE), investigated methods of increasing the market acceptance of screwbase compact fluorescent lamps (CFLs). Another goal of the round table was to discuss issues associated with color consistency of CFLs. It was a general consensus among round table participants that current CFL products show a wide variation in correlated color temperature (CCT) and chromaticity coordinates, both between manufacturers and within manufacturers' own CFL product lines. This means that from lamp to lamp, a multitude of color differences can be observed, even among lamps labeled with the same CCT.
Below are the list of attendees, minutes of the round table meeting, the presentation on the main findings of the focus group, and the final report on the focus group discussions. If you have any additional questions on the project, please contact Mariana Figueiro.