Lighting Professionals
Luminaires and Lamps
This is a guide for contractors and specifiers who are replacing existing fluorescent troffers with new LED troffers or retrofit kits. Factors that should be taken into consideration include providing adequate illuminance, energy savings, occupant satisfaction, payback period, and using lighting controls. Development of this guide was sponsored by the Lighting Energy Alliance.
LED lighting can provide energy efficient, high quality lighting in many settings. The Lighting Research Center and NYSERDA present the following interactive video to assist contractors, building professionals, and other lighting installers with the often confusing process of selecting and installing solid-state lighting equipment for a particular application. Topics of the video include product selection, advantages and challenges of LED products, economic calculations, installation tips, and links to other available resources. Viewers can earn professional continuing education credits by watching the video and using the interactive features. Adobe Flash and a broadband internet connection are required.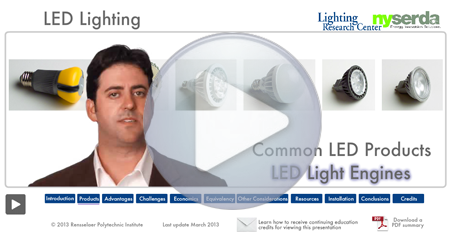 (Note: You must have Flash Player 11 or later installed to view the presentation. Click here to download Flash player.)

For more information contact Jeremy Snyder, Program Director, Energy Efficiency.
LED Research
The LRC's Solid-State Lighting Program offers many guides to energy-efficient lighting, including under-cabinet, directional, refrigerated case, outdoor, and parking lot applications.
Integrated Skylight Luminaire
This DELTA (Demonstration and Evaluation of Lighting Technologies and Applications) publication documents the field performance of a prototype skylight for warehouses that incorporates fluorescent lighting and an automatic control system.
CFL Testing
This report contains performance data for compact fluorescent lamps (CFLs) rated at or above 13 watts. The report includes test data from 1999 through 2005.
PEARL (Program for the Evaluation and Analysis of Residential Lighting)
Backed by organizations including the National Resource Defense Council, U.S. Environmental Protection Agency, U.S. Department of Energy, and the Consortium for Energy Efficiency, PEARL's testing program focuses on ENERGY STAR lighting products and covers both fixtures and lamps.