LRC Provides Guidance for Pedestrian and Cyclist Safety
The LRC produced a short video with information and pointers for staying safe when people go out walking, running or cycling at night in the dark. Make sure you can see and be seen!

Transportation Lighting and Safety
The Transportation Lighting and Safety group at the Lighting Research Center evaluates solutions for improving lighting, visibility, safety and security on vehicles, roadways, airplanes and runways, and in the workplace. Lighting is an important part of the safety toolbox, and rapid developments in lighting technologies demand new approaches for more efficient and effective use of energy to meet demands for safety in transportation and the workplace while reinforcing environmental stewardship. The LRC's approach of carrying science to safety is evidenced by the LRC's focus not only on a basic understanding of how we see, but also on real-world, field evaluations and demonstrations of sound approaches that have tangible benefits.

Several projects completed by the transportation group are sponsored by the Transportation Lighting Alliance (TLA). The TLA is a group formed of vehicle lighting manufacturers and the LRC to perform cooperative research and education on the roadway visibility system. Read more here.
Highlighted Projects
---
LRC develops performance standards to improve worker safety
The LRC is developing performance standards for warning lights to help ensure safety of front line service workers in transportation, utility and construction sectors. This project is funded by the National Institute for Occupational Safety and Health (NIOSH) under Grant R01 OH010165, and includes a collaboration with Pennsylvania State University. Information about the studies and a recent symposium to share project findings are found at: http://www.lrc.rpi.edu/programs/NIOSH/index.html
---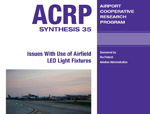 LRC researcher authors National Academies report on LED airfield lighting
John Bullough, LRC senior research scientist and adjunct assistant professor, authored a report to assist airports as they decide if and when to install LED runway and taxiway lights. The report was published by the Transportation Research Board (TRB) of the National Academies through the Airport Cooperative Research Program (ACRP), which funded the study.
Read more...
---
Transportation Lighting Alliance Study explores pedestrian safety at roundabouts
Lighting, both on vehicles and mounted on poles at a roundabout, can be important tools for pedestrian safety at roundabouts. A two-part study of the influence of vehicle headlamps and roadway lighting on the ability of drivers to see pedestrians along crosswalks in roundabout intersections was conducted.
Read more.
---
States implementing wipers-on, headlamps-on law see reduction in fatal crashes according to LRC study
The LRC recently found that the odds of being killed in a multiple-vehicle crash during daytime rain were about 8 percent lower after states enacted wipers-on laws, according to research recently published in the journal, Safety Science.
Read more.
---
LED beacon lights on maintenance trucks are a safe, economical alternative to traditional rotating beacons
The next time you drive past a construction zone on a highway, you may notice that more highway maintenance trucks are using light-emitting diode (LED) flashing beacons instead of traditional incandescent rotating beacons. A recent study by the Rensselaer Polytechnic Institute's Lighting Research Center (LRC), sponsored by the New York State Department of Transportation (NYSDOT), has shown that LED beacon lights use less power without compromising safety.
Read More.
---
Novel Crosswalk Lighting Improves Pedestrian Safety
Reduced nighttime visibility is a probable contributor to pedestrian injuries and fatalities. Through the Region II University Transportation Research Center, the LRC completed a project for the New Jersey Department of Transportation to systematically evaluate different approaches to lighting at pedestrian crosswalks for improving pedestrian visibility and detection.
Read More.
---
Improving Pedestrian Safety with HID Headlamps
A study examining the stopping distances under different headlamp illumination conditions suggests that HID headlamps have a greater "safety margin," or mean stopping distance, than halogen headlamps.
Read More.
---
Visual Performance from Automobile Headlamps Along High-speed Curves
Researchers at the LRC examined the impact of headlamp intensity on visual detection of small targets when entering high-speed curves. Results show that the relationship between headlamp intensity and visual performance depends upon the target's location and the amount of light on the target.
Read More.
---
Metal Halide and High-Pressure Sodium Lighting for Outdoor Applications
Metal halide lighting is gaining in acceptance for many nighttime applications. Researchers at the LRC have investigated the "quality" issues associated with the two lighting system types. HPS and MH installations were compared in terms of perceptions of brightness and safety.
Read More.