LEDs: Saving Energy in Retail Display Windows

Retail windows generally rely on high illuminance contrast and high light levels to attract the attention of shoppers passing by. This translates to high energy use and cost.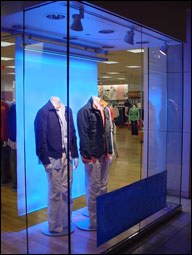 LRC researchers used color contrast with LEDs instead of illuminance contrast to capture the attention of shoppers.
LRC researchers developed slim-profile blue LED fixtures to illuminate white poster backdrops in the display windows. The total lighting power used in the windows was reduced by 30% to 50%.
Lighting is a key design element that contributes to the identity, comfort, and quality of a retail store. In shopping districts and malls, retailers typically use lighted display windows with high illuminance contrast and high light levels to showcase merchandise and to draw the interest of shoppers passing by. This practice often translates to increased energy use and cost.
A previous LRC lab study found that using colored LEDs as background display lighting could produce greater attention capture, greater visual appeal, and lower energy use (up to 50% for accent lighting) than the current lighting practice for store windows.
To further validate this concept in an actual retail environment, the Lighting Research Center investigated the use of colored LEDs in display window lighting at three stores owned by a popular clothing retailer in the Los Angeles area. The goals of the study were to:
demonstrate a reduced energy use of up to 50% for lighting in retail display windows
maintain or enhance the visibility and visual appeal of the display windows while capturing the attention of shoppers 
maintain or improve retail sales
EXPERIMENT
LRC researchers created a colored background for the window mannequins by using blue LEDs to illuminate a white backdrop. By eliminating fluorescent general lighting and reducing the number and wattage of halogen accent lamps, the researchers reduced lighting power use in the windows by 30% to 50%.
During an eight-week period, 700 surveyed shoppers rated the attractiveness, eye-catching ability, comfort, and visibility of each lighting condition presented (blue LEDs, 30% power reduction; blue LEDs, 50% power reduction; no LEDs, typical lighting). Researchers also analyzed store sales.
RESULTS
Compared with the typical lighting, the colored LEDs:
maintained or improved shoppers' opinions
produced a statistically significant improvement on all survey questions when combined with a 30% power reduction
produced no significant difference when combined with a 50% power reduction
did not affect retail sales
| | |
| --- | --- |
| | Ratings results from more than 700 shopper surveys. |
CONCLUSIONS
Colored LED lighting can be used successfully in retail windows to:
provide significant energy savings
improve visual appeal and aesthetics
attract potential customers
TECHNICAL PAPER
Freyssinier, J.P., D. Frering, J. Taylor, N. Narendran, and P. Rizzo. 2006. Reducing lighting energy use in retail display windows. Sixth International Conference on Solid State Lighting, Proceedings of SPIE 6337, 63371L.
Full-text PDF
PROJECT-RELATED NEWS
SPONSORS
Project Sponsor: Los Angeles Department of Water and Power
Equipment Sponsors: Advance Transformer Co. and Lumileds Lighting