Additive Manufacturing for Lighting Consortium
From economies of scale to economies of scope, additive manufacturing (AM) is poised to transform industries by increasing flexibility, speed, efficiency, responsiveness, and power across value chains and entire ecosystems. You are invited to explore the possibilities of this transformational movement with other pioneering thought leaders. Our goal is to collectively understand the state of the art of AM and in particular its impact on the solid-state lighting, building, and construction industries, so as to enable all participants to be proactive and seize the opportunities to shape the future of lighting.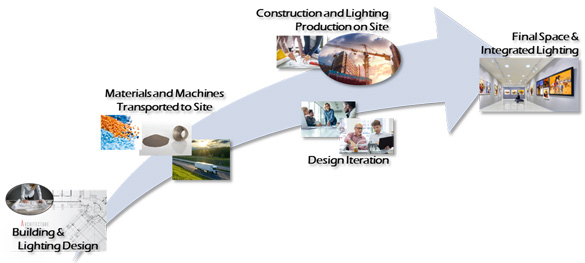 Join the Lighting Research Center in creating a shared vision for the future of lighting practice. Key stakeholders are being brought together to develop a roadmap for transforming the industry to provide custom lighting fixtures, on-site and on-demand, that will elevate the appearance, value, and experience of the built environment. The Additive Manufacturing for Lighting Consortium will enable a collaborative process to define, plan, and develop this roadmap for lighting practice, allowing for a major transformation toward a business model of custom, value-added lighting fixtures. Together, we want to develop the vision and produce a joint plan that defines the ecosystem, outlines next steps, and determines the progress and success measures.
The first meetings were held in late February and early April. Going forward, the group will embark on developing an industry roadmap to make additive manufacturing a viable option for the lighting, building, and construction industries and other allied lighting industries.
Join your colleagues from the following fields:
Printers | Materials | Architecture | Lighting
For more information:
N. Narendran, Ph.D., LRC Director of Research
Email: narenn2@rpi.edu
Tel: +1 (518) 276-7176

Press Release: LRC Establishes Industry Consortium to Explore Additive Manufacturing for Lighting (April 2019)
Press Release: Lighting Research Center Initiates Industry Collaboration to Study and Explore 3D Printing Solutions for Lighting (March 2019)
---
LRC 3D Printing for Lighting Research
Narendran, N., and I.U. Perera. 2019. 3D printing: Can it work for lighting? IES Annual Conference, Aug. 10, 2019, Louisville, KY.
Privitera, O., Y. Liu, I.U. Perera, J.P. Freyssinier, and N. Narendran. 2019. Optical properties of 3D printed reflective and transmissive components for use in LED lighting fixture applications. Proc. SPIE 10940, Light-Emitting Devices, Materials, and Applications, 109401X (2 April 2019); doi: 10.1117/12.2510063.
Narendran, N. and I.U. Perera. 2018. The value of 3-D printing in manufacturing solid-state lighting systems. Lightfair International 2018, May 9, 2018, Chicago, Illinois.
Perera, I.U., N. Narendran, and V. Terentyeva. 2018. Thermal characterization of three-dimensional printed components for light-emitting diode lighting system applications. Optical Engineering 57(4), 041411; doi: 10.1117/1.OE.57.4.041411.
Narendran, N., and I.U. Perera. 2018. Revolutionizing the Solid-State Lighting Industry with 3-D Printing. Troy, N.Y.: Lighting Research Center.
Narendran, N., and I.U. Perera. 2018. Is 3-D printing the next frontier for the LED lighting industry? LEDs Magazine, 31 January 2018.
Narendran, N., I.U. Perera, X. Mou, and D.R. Thotagamuwa. 2017. Opportunities and challenges for 3-D printing of solid-state lighting systems. Proceedings of SPIE 10378, 16th International Conference on Solid State Lighting and LED-based Illumination Systems, SPIE Optics + Photonics, San Diego, Calif., August 2017, Paper 10378-35.
Terentyeva, V., I.U. Perera, and N. Narendran. 2017. Analyzing theoretical models for predicting thermal conductivity of composite materials for LED heat sink applications. Proceedings of the IES 2017 Annual Conference, August 10-12, Portland, Oregon.
Thermal Characterization of 3D-printed Components (2018 Poster)