Refrigerated Display Case Lighting with LEDs (2002)
The rapid development of high brightness light emitting diodes (LEDs) has triggered many applications, especially in the area of display lighting. This study focused on the application of white LEDs in refrigerated display cases. The fluorescent lighting presently used in commercial refrigerators is inefficient in the application and provides poor lighting for merchandising. Researchers conducted a laboratory human factors experiment to assess the preference for fluorescent and LED lighting systems.
EXPERIMENT
Two refrigerated display cases, one with the traditional fluorescent lighting system and the other with a prototype LED lighting system, were placed side-by-side in a laboratory setting. Sixteen human subjects participated in this study and rated their preference for the two lighting systems.
CONCLUSIONS
The lighting within the display case was much more uniform with the LED lighting system compared to the traditional fluorescent system. The results from the human subject experiment show that subjects strongly preferred the display case with the LED lighting. Considering the luminous efficacy of white LEDs presently available in the marketplace, it is possible to develop a LED based lighting system for commercial refrigerators that is competitive with fluorescent lighting system in terms of energy use. The LED based lighting would provide better lighting than traditional fluorescent lighting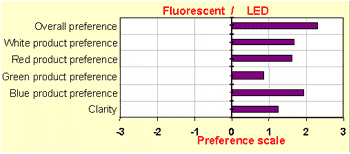 ACKNOWLEDGEMENTS
LRC thanks the U.S. Department of Energy, Oak Ridge National Laboratories, and Foster Miller for their financial support for this study. Beverage-Air/Carrier, B/E Aerospace Inc., and Opto Technology Inc. are thanked for supplying equipment.