Research Projects
Recent research has shown that light:
Alleviates seasonal depression.
Increases the length and quality of sleep.
Consolidates sleep/activity patterns in Alzheimer's disease patients.
Improves the performance of night-shift workers.
Improves weight gain in premature infants.
Regulates melatonin, which has been shown to reduce breast cancer growth in animals.
Has a direct impact on cortical brain activity.
The Lighting Research Center has conducted numerous studies to investigate the impact of light on human health and wellbeing. The work performed by LRC researchers consists of basic, applied, field, and measurement research, many in partnership with the program's Sponsors and the Light and Health Alliance. The studies listed below represent only a portion of the important scientific findings that raise questions about the health impact of lighting used in offices, schools, and homes.
Light and Older Adults
LRC researchers are studying issues that affect older adults, such as postural control and stability, light therapy for mitigating symptoms of Alzheimer's disease, rest/activity patterns of healthy adults vs. Alzheimer's patients, and lighting design for the aging eye.
---
Light and Adolescents
From testing the effects of light treatment devices for adolescents with delayed sleep disorder to quantifying the impact of light on adolescents to designing patterns to optimize daylight in schools, studies have demonstrated that we can promote circadian entrainment with the 24-hour solar day through lighting.
---

Office Lighting
LRC researchers are examining sustainable lighting design as a means to achieve energy goals as well as to enhance the health and wellbeing of office workers, improve overall work effectiveness, and reduce long-term health problems associated with circadian disruption.
---
Light and Shift Work

The International Agency for Research on Cancer has declared that circadian disruption associated with shift work is "probably carcinogenic to humans."
LRC researchers are developing lighting intervention strategies to reduce health risks in shift workers.
---

Light, Alertness, and Performance
Alertness has been shown to be strongly influenced by exposure to light. LRC research focuses better understanding the effects of light on alertness and performance during the day and at night.
---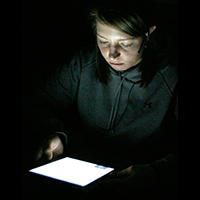 Light at Night
There is growing interest in the role that light plays on human health, particularly nighttime exposure to short-wavelength light, which can affect sleep. The LRC has conducted research to better understand how much and what kind of light may affect biomarkers important for sleep.
---

The Daysimeter
A unique tool developed by the LRC for measuring personal circadian light exposure and daily rest and activity levels, the Daysimeter (and its smaller counterpart, the Daysimeter-D) has been successfully used to determine light's impact on the circadian system in a number of studies.
---

Additional Light and Health Research Projects
LRC researchers are taking a multidisciplinary approach to light and health research, applying what has been learned from prior research to modeling circadian entrainment, conducting animal studies, evaluating NICU standards, and determining the properties of spectral transmittance through the eyelids.
---
View a list of publications, journal articles, and conference papers on light and health issues by Lighting Research Center scientists.