The Daysimeter
One of the major recent advances in light and health research is the LRC's development of the Daysimeter, a research tool for measuring personal circadian light exposures and daily rest and activity levels. The Daysimeter is a one-of-a-kind practical device, as it measures circadian light based on a model of human circadian phototransduction proposed by the LRC, and is calibrated in terms of both photopic lux and circadian illuminance (a term based on the spectral sensitivity of the human circadian system.) Through use of the Daysimeter and associated software, LRC researchers are able to interpret light as a stimulus to the circadian system, quantify circadian disruption and circadian stimulus, and prescribe light treatments for adjusting circadian phase. Named one of the Top Ten Innovations of 2011, the Daysimeter and its smaller counterpart, the Daysimeter-D, are valuable tools in furthering our understanding of light's impact on human health.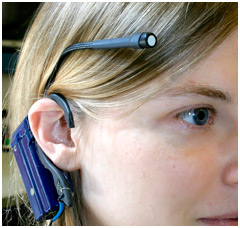 The first model of the Daysimeter, presented in 2004, was a small, head-mounted device attached to goggles. LRC scientists continued to further develop the device to become more compact, eventually refining the design to one that could be either worn at eye level (as pictured to the right) or as a pendant (as seen above).
Summaries of select research projects are linked below.
Related publications:
Bierman A., T.R. Klein, and M.S. Rea. 2005. The Daysimeter: a device for measuring optical radiation as a stimulus for the human circadian system Measurement Science and Technology, 16:2292-2299.  
Miller D, Bierman A, Figueiro MG, Schernhammer ES, Rea MS. 2010. Ecological measurements of light exposure, activity and circadian disruption. Lighting Research & Technology, 42(3):271-284.
Rea MS, Figueiro MG, Bierman A, Bullough JD. 2010. Circadian light. Journal of Circadian Rhythms, 8(1):2.
Rea MS, Figueiro MG, Bullough JD, Bierman A. 2005. A model of phototransduction by the human circadian system. Brain Research Review, 50:213-28.
 Circadian Monitoring and Regulation Device 
Sponsor:
U.S. Army Research Office via Intelligent Automation, Inc.
A Model of the Human Circadian Timing Mechanism 
Sponsors:
National Institute on Aging, R01AG034157
National Institute on Drug Abuse, U01DA023822
Office of Naval Research, N00014-11-1-0572
New Tools to Measure Light Exposure, Activity, and Circadian Disruption in Older Adults 
Sponsors:
National Institutes on Aging, R01AG034157
Trans-National Institutes of Health Genes Environment and Health Initiative, U01DA023822
New Insight on Ways Circadian Disruption Affects Human Health 
The smaller variation of the Daysimeter, the Daysimeter-D was first called a "Dimesimeter", as it is about the size of a U.S. 10 cent piece. The Daysimeter-D is notable for its versatility, as its small size and low mass provide many options for attachment to a person.
The Dimesimeter: A User-friendly Circadian Light and Activity Sensor 
Watch a short video about the Dimesimeter.


The Daysimeter has been featured in various media reports. A select sampling is below. For more featured media, visit our Newsroom Media Page.
Beyond The Task Of Illumination
Facility Executive magazine - April 2017
Americans spend more than 90% of their time indoors, yet little attention has been given to understanding how light affects health in the built environment. A team of researchers at the Lighting Research Center (LRC) at Rensselaer Polytechnic Institute in Troy, NY, is working to change that.
The Rhythm of Light: Circadian Lighting Supports Health and Wellbeing in the Office Environment
Retrofit magazine - March/April 2017
In a project funded by the U.S. General Services Administration (GSA), LRC researchers are investigating how to effectively use electric lighting to ensure that every worker receives enough light during the day to support health and wellbeing in the office environment.
TEDMED: Mariana Figueiro - May 5, 2015
How can we harness the power of light to improve health? Mariana Figueiro, Light & Health Program Director at the Lighting Research Center, explains in her TEDMED talk. Watch the video. For more information, also see Dr. Figueiro's TEDMED guest blog post.
Let there be light: Helping people through dark days
BBC News - February 14, 2015
The Lighting Research Center at Rensselaer Polytechnic Institute is developing a system that could transform people's homes and lives by regulating the amount of light to which they are exposed. At its heart is a device known as a Daysimeter, which was developed by a team led by Professors Mark Rea and Mariana Figueiro.
Wearable sensors to help you get just the right amount of light
Radio Sweden - November 20, 2014
Dr. Thorbjörn Laike speaks with Radio Sweden about light & health research with LRC and the Daysimeter.
Top Ten Innovations 2011
The Scientist - January 2012
#8 The Circadian Watch: The Dimesimeter isn't the latest fashion statement, but it may offer researchers insights into how disrupting circadian rhythms affects human physiology, behavior, and disease. The Scientist staff offers their list of the best and brightest products that 2011 had to offer the life scientist.
New Tools to Measure Light Exposure, Activity and Circadian Disruption in Older Adults
SleepClinician.com - November 2011
Mariana Figueiro, Ph.D., provides expert commentary for SleepClinician.com, discussing the Daysimeter and Dime-simeter, tools that can be used to accurately measure light exposures as they affect the circadian system.
Wireless Device Helps Illuminate the Role of Light on Human Health
Scientific American - July 2008
Researchers are testing a small, ear-mounted meter to help gauge exposure to light. In an effort to gauge exactly how light affects our body clocks, Rensselaer Polytechnic Institute's Lighting Research Center has developed a device called a Daysimeter.
---
View a list of publications, journal articles, and conference papers on light and health issues by Lighting Research Center scientists.