Schuyler Ridge Residential Health Care
Safety and comfort are crucial influences on the quality of a long-term care facility. However, patients at residential health care facilities may find it difficult to get out of bed at night because the lighting controls are out of reach, leading to falls and injury. Additionally, nurses check patients several times during the night by repeatedly turning on overhead lighting, which may be uncomfortably bright and disturb patients' sleep. Look-alike common areas and hallways can also be difficult to navigate, especially for patients with some degree of dementia.
In a pilot demonstration study at Schuyler Ridge Residential Health Care, a 120-bed skilled nursing facility in Clifton Park, N.Y., the LRC set out to demonstrate that innovative lighting designs and advanced technologies—including LEDs, photosensors, and occupancy sensors—could help older adults in long-term care facilities increase sleep efficiency and be more comfortable.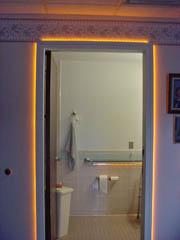 Design technique
The LRC team determined that an automated, non-disturbing lighting scheme could be designed to help patients get in and out of bed at night, as well as give nurses enough light for their rounds. Hallways could be distinguished through the use of colored lighting, which theoretically would serve as a navigational guide for residents and visitors.
LRC designers and researchers installed automated LED lighting systems in four residents' bedrooms and bathrooms. The custom-designed lighting systems featured amber LEDs installed under bed frames, around bathroom door frames, and along the handrails and mirrors in the bathrooms. Photosensors and occupancy sensors turned the lights on slowly when a resident got out of bed or a nurse walked into their room at night.
Surveys conducted with patients and staff before the LED lighting installation showed that most patients were awakened at night by nurses turning on the overhead lighting, which was considered too bright and glaring. After the installation, the patients reported no problems with sleep disturbance or discomfort with the LED lighting. Nurses confirmed that there was enough light in the bedrooms to perform their rounds and said the automated lighting was convenient and useful.
More information on the Schuyler Ridge project.