Innovative Lighting Solutions for Senior Care Facilities (2005)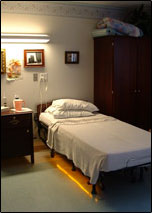 LEDs were mounted under the bed frames to put light on the floor, allowing a clear passage at night and enough light for nurses to perform resident checks.




LEDs under a mirror and along a handrail were used to light the bathroom.
A new study from the LRC is showing how innovative lighting designs and advanced technologies, including LEDs, photosensors and occupancy sensors, can help seniors in long-term care facilities maintain independence and be more comfortable.
In a pilot demonstration study at Schuyler Ridge Residential Health Care, a 120-resident skilled nursing facility in Clifton Park, N.Y., LRC researchers installed automated LEDs to determine whether energy-efficient lighting solutions could improve the comfort and care of seniors and assist the nursing staff in their nightly rounds.
Through discussions with the staff at Schuyler Ridge, LRC researchers learned of several challenges that could be resolved through new lighting at the facility. The nursing staff indicated that most falls occur when residents are in their own rooms unattended, performing tasks such as getting in and out of bed. Hard-to-reach lighting controls and bright, glaring room lights add to the difficulty seniors have getting up in the middle of the night. Additionally, nurses need to check residents several times at night and often disrupt their sleep and comfort by repeatedly turning on the room lights.
Based on these issues, the LRC determined that a minimal, non-disturbing lighting scheme that turned on automatically could potentially help residents getting up at night, as well as be used by nurses for their rounds—without the need to turn on the bright overhead lighting.
EXPERIMENT
LRC researchers installed custom-designed amber LED fixtures in four resident bedrooms and bathrooms. An occupancy sensor slowly turned the lights on when a patient got out of bed or a nurse walked into the room at night, and a photosensor ensured that the LED lighting did not come on during daylight hours or when the overhead lighting was on.
RESULTS
Surveys conducted with residents and nursing staff before the LED lighting installation showed:
Most residents were awakened at night by nurses turning on the overhead lighting
The overhead lighting was considered too bright and glaring at night
Residents had difficulty reaching the lighting controls at night  
Three weeks after the LED installation, the residents and staff reported:
The LED lighting caused no problems with sleep disturbance or discomfort
The motion sensor activation was useful
The light levels in the bedrooms were enough for nurses to perform their rounds
The light levels in the bathrooms could provide more illumination
TECHNICAL PAPER
Figueiro, M.G., and M.S. Rea. 2005. New research in the light and health field is expanding the possibilities for LED lighting in healthcare environments. CIE Midterm Meeting Conference Proceedings, Leon, Spain.
SPONSORS
Project Sponsor: ASSIST
Site Sponsor: Schuyler Ridge Residential Health Care – Seton Health
Equipment Sponsor: OSRAM SYLVANIA / OSRAM Opto Semiconductors
RELATED NEWS
Advanced lighting assists patients and staff in long-term care facility – LRC Newsletter
http://www.lrc.rpi.edu/resources/news/enews/Jan05/general219.html
Advanced lighting technologies enhance resident care – Long Term Living Magazine
https://www.iadvanceseniorcare.com/hot-technologies-advanced-lighting-technologies-enhance-resident-care/
Bright side of night lighting - LD+A
http://www.lrc.rpi.edu/programs/lightHealth/pdf/nightLighting.pdf