The Long and Lighted Road: Lighting and Driving
Interior Automotive Lighting

Interior lights inside vehicles include dome, map, key and puddle lights.
Lighting inside the car
The key elements of dashboard lighting are very simple. Displays must be:
easy to read with speed and accuracy
visible in all lighting conditions
visible when needed without distracting the driver
These elements are necessary not only to improve usability, but also to improve safety. Automotive engineers need to know:
Which colors are most visible?
What types of displays are most readable?
What types of displays are most comfortable for drivers?
How bright and uniform should displays be?
What contrast level is most readable under all conditions?
How large do the characters need to be?
All these factors affect usability and safety. At the same time, manufacturers want instrument panels that are easy and inexpensive to mass produce.
Of interest, seemingly little attention has been given to the potential impact of lighting on vehicles to energy use and fuel consumption. Still, lighting, in addition to other components of vehicles, can make a difference in their overall efficiency. Check the links page for information on fuel-efficient and electric vehicles.
As car designs change, so do the requirements for dashboard lighting. Different materials, different angles, even different light sources can change the way drivers see and respond to dashboard lighting. Dashboard lighting does not exist in a vacuum. It interacts with other interior lighting and reflections of interior and exterior lights. Interior automotive lighting includes:
Dome and doorsill lighting when doors are open
Instrument panel and switch lighting
Independent items such as turn signal indicators
Accessory workspace lighting such as map or reading lights
Juggling the demands of various lighting needs with the paramount need of the driver to see the road and pertinent displays clearly is difficult, especially since no industry standards exist. A list of best practices was developed in a project, "General Motors Interior Automobile Lighting Study," by the Lighting Research Center of Rensselaer Polytechnic Institute. The 1995 study developed specification and measurement protocols and provided an evaluation of interior lighting schemes. Its advice is succinct:
Diffuse lighting is best for uniform lighting when a car is stopped
Shield light sources for any lighting that operates while the car is moving
Minimize lamp wattages through lamp choice and attention to optics.
New technologies transform display

Dashboard instruments give information about the vehicle's speed and engine conditions.
Injection molded, plastic light pipes are critical for display lighting in cars. Rather than a series of tiny light sources for various displays, light pipes allow a single light source to efficiently illuminate a much larger area. John Van Derlofske, Head of Transportation for the Lighting Research Center, points out the advantages of light pipes in an article that appeared in the magazine Laser Focus World. New design modeling software makes it easier to design light pipes, and the plastic molding makes them inexpensive and easy to produce. New designs allow for better light distribution because they can reflect light more uniformly.
Instrument displays that once might have used an array of miniature incandescent lamps (left) or more recently, light-emitting diodes (center) are now being illuminated by fewer diodes and distributive light pipes (right).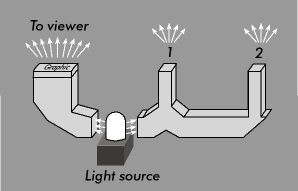 Light pipes distribute light from a single diode to instrument graphics using internal reflection of light.
Van Derlofske, who came to the LRC after a career with an automaker, is working on project to determine standards for interior lighting. "Now that we have efficient tools for lighting design such as optical modeling software, we are looking into display lighting and perception, and our understanding is growing," he said. "However, we still lack some of the standards to design to for human factors concerns."
The most common light source for interior lighting will be light-emitting diodes (LEDs), Van Derlofske said. "Eventually, all interior automotive lighting is going to LEDs. They generate little heat, are easy to manufacture, have a low profile, and turn on immediately with no rise time delay," he said. The cost for white and blue LEDs, however, is still somewhat prohibitive, he noted.