SUNY Plattsburgh Lighting Master Plan
Design Intent
Safety and Security — "Safety can be defined as freedom from danger, whereas security is freedom from worry." M. S. Rea (2000)
Legibility — Create an identity and definition for the campus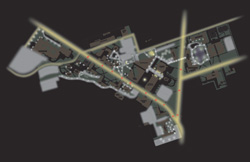 Aerial view rendering of campus lighting.
The State University of New York (SUNY) College at Plattsburgh places a high priority on improving safety and aesthetics for their upstate New York campus. Many styles of streetlights housing a variety of light sources and mounted at varying heights currently populate the university's 256 acres. Considering the school's proximity to and relationship with its Canadian neighbor to the north, as well as the natural beauty of the Champlain Valley that surrounds it, DesignWorks developed a lighting master plan to facilitate implementation of more effective, efficient and attractive campus lighting. The plan provides a lighting language for this academic environment, imparting a cohesive appearance to its diverse architectural styles. A family of streetlights, roadway lights, building-mounted luminaires and pedestrian-scale luminaires with a consistent 'white light' appearance will serve to unify the varied campus zones and provide the security of safely lit paths and parking areas for students, faculty, staff and visitors. The plan can be implemented as a whole or in phases, as budget and logistics permit.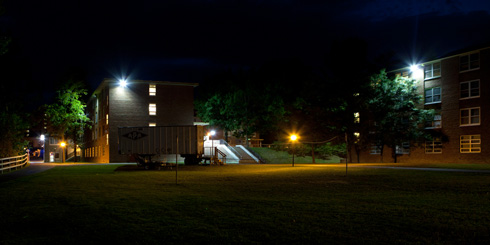 The intent of the project is to create a lighted environment where people can easily see to travel walkways from one residence hall to another while feeling safe if walking after dark. Dark patches should be eliminated, people's faces should be visible, and clothing colors should be discernible.
Above: existing lighting; below proposed lighting.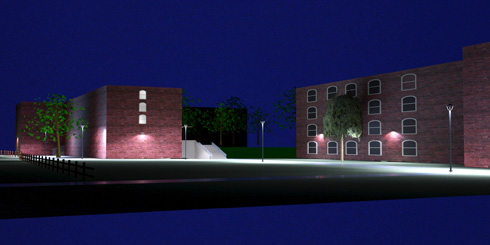 A lighting master looks at the overall campus, considers future expansion, and treats it as a composition. Nodes, landmarks, focal points, major traffic zones and pedestrian paths, and lesser traveled routes will have a connection to each other through the cadence of their lighting. In addition to horizontal illuminance, vertical illuminance and façade lighting is addressed as a component of safety and aesthetics. Brightness levels will vary, but there is continuity among them. Consistent patterns of light will provide a feeling of security, allow safe passage day or night, and discourage unsavory activity, thereby allaying some of the fear of traversing from residence hall to parking lot or library after hours. This will also project an image of an academic institution that embraces all the benefits that new technology offers — a clean, contemporary style, a look to the future. Cool, crisp, white light that appears brighter than the energy it consumes will benefit the human visual system after dark and save energy.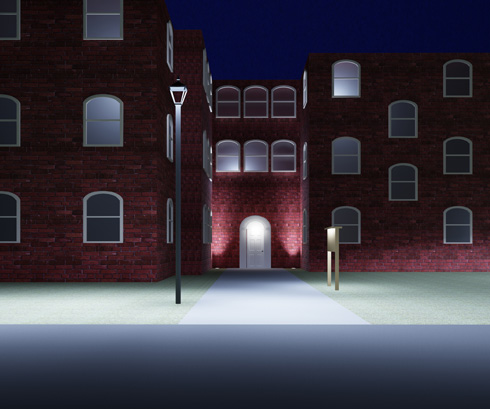 Proposed exterior lighting for residence hall.