Lighting Workshop 2013
"Surreal Reveal"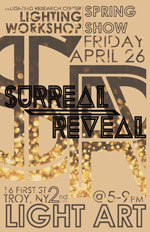 On April 26, 2013, nine students enrolled in the LRC's Lighting Workshop presented their annual light art show in downtown Troy, NY.
The interactive exhibition, entitled Surreal Reveal, was constructed in six separate rooms, each providing its own sensory experience exploring human perceptions of lighting, the physics of light, and the interaction of light and different materials.  The demonstration was held in conjunction with the city's monthly arts and cultural venue, Troy Night Out.