Welch Allyn Corporate Headquarters Renovation,
Skaneateles, NY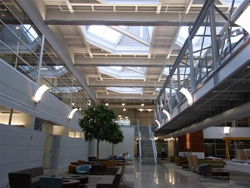 All photos courtesy of QPK Design
Welch Allyn, a leading manufacturer of innovative medical diagnostic equipment, was revitalizing their corporation in Skaneateles, NY. They planned an expansion of their existing facility with the goal to improve the image, function, and sustainability of the site. Several features of the proposed renovation design were a large multi-story atrium, facade shading system, and skylights integrated with an electric lighting system.
Scope of Work:
Evaluate the proposed daylighting features in the atrium. These features included a exterior shading system, and integrated skylight system.
Compare new alternatives to the proposed design
Determine the impact of the daylighting systems
Suggest ways to optimize these features
Challenges:
Overcast sky
Snow loads
Sky views
Southeast building orientation
Solution:
Welch Allyn's corporate headquarters is located among the beautiful rolling hills and wooded area of upstate New York. An important program goal of the proposed expansion was to extend the natural rhythm of the site through the new atrium space. To meet this goal, the LRC design team created a daylighting design that takes advantage of the predominantely overcast sky conditions of upstate New York, creates views of the sky, and balances occupant comfort and energy savings. Daylight is brought into the atrium through a series of large tilted south-facing skylights. The tilt and orientation of the skylights maximizes passive solar gain in the winter and minimizes it in the summer. It also increases daylight availability for overcast sky conditions.
Occupant comfort was a key concern for this project. The orientation of the new expansion is southeast facing. Therefore much of the face of this building is exposed to low angle morning sun. An automatic shade system was recommended to maintain occupant comfort, mitigate glare, and maximize daylight harvesting potential in the perimeter building zone.
This project offered an opportunity to add skylights to many of the office areas. Prismatic skylights with splayed light wells were recommended. The electric lighting in the daylit area were to be outfitted with energy-saving, daylight-harvesting equipment that can turn off electric lights when daylight is supplying the lighting needs for occupants.
To read more about this project, read the LRC press release by clicking here.
Also refer to the publication, "Light Scoops: A Design Guide."