Volume 1 Number 3
Copyright @1998 Rensselaer Polytechnic Institute
Lighting from Afar
You've heard about it, you may have seen it. Is remote-source lighting right for you?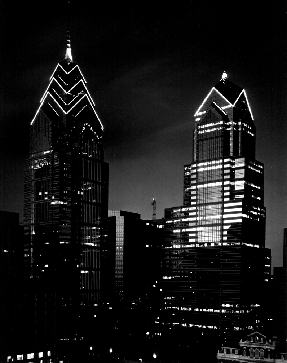 In the 1990s, the use of remote-source lighting has steadily increased. Two types of remote-source lighting - fiber optics and prism light guides - may eventually replace conventional lighting in several indoor and outdoor applications. Fiber-optic systems are already used extensively in non-illumination applications such as data communications and medical imaging and as specialized lighting for dentistry, microscopes, cameras, and instrument displays. First manufactured in 1983, prism light guides are relatively new and not yet common.
Why use remote-source lighting?
The separation of the source from the area being illuminated and the ability to light multiple locations with one source lead to several benefits.
Removes infrared (IR) and ultraviolet (UV) energy. The light emitted from remote-source lighting systems is often called "cold" because it contains no IR (heat) energy. The system filters out the IR and also the UV energy that is emitted by the source. You can safely light objects sensitive to IR and UV, like paintings, textiles, jewelry, and chocolate. There is no heat to discolor room surfaces. And you can handle the lighted fixtures because they do not get hot.
Alleviates safety and security concerns. Because there are no electrical parts in light guides, you can safely use remote-source lighting systems in hazardous environments, such as areas with explosive gases, or in wet locations like pools and fountains. Also, the light guides carry light instead of electricity, so they cannot conduct electromagnetic interference (EMI). Thus, by remotely locating the electronics (lamp and ballast), you can use remote-source lighting systems in areas with EMI-sensitive equipment.
Putting the light source outside of a secured enclosure, such as a display case of costly objects, means the display area doesn't have to be opened for servicing. This prevents theft or breakage of displayed objects and disruption of climate control. Additionally, hiding the light source keeps it away from vandals.
Simplifies maintenance. Replacing a system using multiple lamps with a system using one lamp means that there's only one lamp to replace and fewer lamps to stock. The light source can be put in a convenient, safe, accessible place. For example, in a high-ceiling application such as downlighting for an atrium or over an escalator, the lamp and electronics can be located so that they do not require scaffolding, lifts, or other special equipment for maintenance.
Reduces energy consumption. A remote-source lighting installation with one high-efficacy source (such as HID) is more efficient than an installation using many less-efficacious lamps (such as incandescent). Less energy may be needed for air conditioning because remote-source lighting systems emit less heat than conventional systems. For example, "replacement of halogen track lighting with NoUVIR fiber-optic systems usually results in energy savings of 50% to 70%," states Jack Miller, vice president of NoUVIR Research, a company that develops plastic fiber-optic systems for museum lighting. Such savings are typical of remote-source lighting systems.
What can you do with remote-source lighting?
Whether glass fiber, plastic fiber, or prism light guide, remote-source lighting systems are appearing in a wide variety of applications. Lighting Futures asked remote-source lighting experts to name the top current and future applications.
Display and exhibit. Fiber optics are replacing the traditional linear fluorescent and MR16 lighting in museum and retail displays. Glass fiber-optic systems, such as Absolute Action Ltd.'s system that lights gems in the Royal Ontario Museum in Toronto, dominate this market. High-quality acrylic plastic fibers are making their way into this market. For example, historic documents and other artifacts at the Gene Autry Western Heritage Museum in Los Angeles, California, are lit with NoUVIR Research's plastic fiber-optic system. A few prism light guides are found in display applications.
Water. Scott Mangum, a product/application specialist for GE Lighting, says, "Fiber-optic lighting currently commands about 10% of the water lighting market. I believe that all new lighting in wet locations may be achieved with plastic fiber-optic systems by the end of this century." Prism light guides are also used in this application, which includes underwater lighting in pools, spas, fountains, and waterfalls and linear lighting along pool edges.
Architectural highlight. Spots of light from end-emitting fibers emphasize the architectural features of a room or building. Side-emitting plastic fiber and prism light guides outline the exterior contours of buildings. For example, an installation in Los Angeles, California, uses three bands of Lumenyte's large plastic fiber around the Burger King's perimeter. "The major benefit is the dynamic swirling of colors which attracts customers," says John Macaluso, Burger King franchisee. To simplify maintenance, McDonalds went with TIR System's Light Pipe (a prism light guide) to light the roof beams of thousands of its restaurants.
Side-emitting fiber may resemble architectural neon, but it is reusable, less likely to break, more cost effective in long runs, and more energy efficient. In addition, the light guides can go in places where neon can't. Plastic fiber-optic systems using 150-watt metal-halide lamps are about 70 to 80% as bright as neon.
Signage and visual guidance. Fiber optics light a variety of signs, such as the three-dimensional Coca-Cola Bottle by Super Vision in Times Square, New York, New York, and the AirTouch signs in San Francisco, California (see "Flash!"). Fiber optics are also used in edge-lit exit signs, billboards, and traffic signals. In light-box and tubular forms, prism light guides backlight signs for roads, egress, and advertising. Side-emitting plastic fiber outlines helicopter landing pads because it meets FAA visibility regulations. Fiber optics light steps and aisles in theaters and airplanes. Prism light guides can be recessed into handrails for aesthetics and pedestrian safety.
Tunnel and roadway. A top application for prism light guides is tunnel and roadway lighting. For example, in the Callahan Tunnel in Boston, Massachusetts, 11,880 feet of TIR's Light Pipe replaces linear fluorescent luminaires. The prism light guide provides drivers with uniform, linear light along the length of the tunnel while reducing lighting maintenance costs.
In 3M's Lighted Guidance Tube (LGT), the leakage light from a prism light guide aids drivers traveling through hazardous roadways, such as construction work zones or sharp curves. The LGT is mounted on guard rails or concrete barriers to provide a continuous line of light.
Vehicle. Fiber optics will play a larger role in automotive lighting. Used for the last 30 years in backlighting applications and drive indicator lights, fiber optics may eventually provide light to the entire vehicle using only one or two sources.
Fiber optics and prism light guides are appearing in emergency vehicles. Federal Signal installs Lumenyte large plastic fiber in emergency vehicles to replace the strobing warning lights that can blind drivers at night. The fiber-optic light never goes off; instead, a color wheel rotates so that the warning is always present. In each ambulance it manufactures, Road Rescue installs its prism-light-guide light boxes to replace conventional ambulance dome lights. Set flush in the ceiling, they produce brighter and more evenly distributed light.
Fiber-optic systems are used in airplanes and ships, where benefits include small size, light weight, lack of EMI, and resistance to corrosion.
Downlight and ambient. In Europe, fiber-optic downlighting provides ambient light in offices and restaurants. One downlighting method uses a dual-source fiber-optic system, where conventional and fiber-optic downlights share a common QL or metal halide source.
In North America, fiber-optic systems have not made as much headway into the general lighting market. Mangum says, "Despite what some people might say, effectively lighting a room with optical fiber illumination today is a daunting task. This is due to the technical limitations and high cost of the materials involved. I believe that the concept will become a viable alternative to some traditional lighting techniques as materials improve and costs come down." Gregg Whitaker, president of Lumenyte International, sees downlighting as a top future application for fiber optics. He says, "I guarantee that fiber optics will replace many fluorescent lighting systems based upon safety and economic factors." Gersil N. Kay, president of CONSERVATION LIGHTING INTERNATIONAL, the North American representative of glass fiber-optic company Absolute Action Ltd. of England, anticipates fiber-optic systems that you can buy off-the-shelf to install in your home for ambient and task lighting.
Chris Pekar, a product manager at TIR Systems, doesn't see prism light guides as a potential replacement for general office lighting, unless lamp efficacy improves significantly. Lorne Whitehead, associate professor of physics at the University of British Columbia and inventor of the prism light guide, concurs: "For light guides to work well, we need efficient, cost-effective sources of light." Whitehead sees prism light guides becoming widely used for energy-efficient, light-industrial lighting. In addition, both fiber-optic and prism-light-guide systems have a high potential for use in refrigerated areas because of their ability to keep heat out of these areas.
Decorative. Special effects such as color changes and strobing make remote-source lighting systems popular for decorative lighting. Fiber optics have been used to light costumes and floats in Disneyland's Parade of Lights, the ornament atop the National (U.S.) Christmas tree, and dance floors in cruise ships and discos. Fiber optics are ideal for producing a starlight effect for ceilings, such as the one manufactured by Schott Fiber Optics for a church in England. Fiber optics can mimic flickering candlelight for historical displays, and prism light guides can be made to produce a bright spot that moves with the viewer's eye position.
On the brink of widespread success
"The cost of a fiber-optic system per lumen is more expensive than that of a traditional lighting system," says Steve Wilson, CEO of Radiant Imaging, an optical engineering company specializing in illumination. "People in industry are working on reducing cost and raising efficiency."
LIGHTFAIR attendee Mercedes Villa of Reflex Lighting echoes a common complaint of many specifiers: "The fiber optics were eye-catching, but the cost is too high." But if you haven't checked costs recently, you may be surprised. "Fiber-optic costs of today are 60% the cost of 8 years ago, and that trend will continue," says David Ruckert, CEO and president of Fiberstars, a manufacturer of plastic fiber-optic systems. Compared with conventional lighting, fiber-optic systems, which are less expensive than prism-light-guide systems, can cost the same to 50% more, depending on application and geographical location. As with any product, large demand will drive costs down.
For both fiber optics and prism light guides, a key to increasing market size is improving the system efficiency. Pekar notes that fiber optics are promoted as being energy efficient, but that's in comparison to incandescent lamps. Prism-light-guide systems are more efficient than fiber-optic systems, but are not yet as efficient as fluorescent systems, even when using metal halide lamps, because there are losses in the light guide. Whitehead points out that we might see a hybrid system where fiber carries light through a complicated path to a prism light guide. Manufacturers are improving the efficiency of all system components, but most experts believe the key is the light source. For both fiber-optic and prism-light-guide systems, a new light source that has many people excited is Fusion Lighting's sulfur lamp.
"A lot of lighting designers say they would like to use fiber optics, but it's not practical because every installation has to be custom made," says Isaac B. Horton III, CEO and president of Remote Source Lighting International, a company that develops illuminators. All glass and some plastic fiber systems are preassembled at the factory according to a job's specifications. No cutting or polishing of the fiber bundles is needed onsite. However, claims Wilson, "Solid-core plastic allows for onsite installation and will increase [design] flexibility and lower cost." The large plastic fiber, which is supplied on a spool, is cut to length as needed and buffed or polished at the ends. You can't do this with glass fiber, but plastic is still less stable and has a shorter life. The success of either method depends on the lighting design's requirements and the installer's competency.
Another step toward a "plug and play" system is innovative illuminator design, such as a multiple-port model developed by Horton that eliminates the need for a preassembled harness. "Using a variable splitter technology," says Horton, "we are able to control the amount of light that goes into individual fibers." Fibers are separated from each other, eliminating the need for fiber bundles and associated fiber overheating problems.
For now, you'll probably need to work with a specialist when selecting a remote-source lighting system. "It's so new, that not many people know how to utilize it," says Wilson. As more players enter the market, you will hear many claims, making it difficult to determine the truth and compare products. There's a lack of standardization in vocabulary, testing and measurement methods, and types of technical information reported. Wilson's Remote Source Lighting committee is one industry group working towards establishing standards in the field.
"Education of the public is key to the acceptance of [fiber-optic lighting]," believes Mangum. In Kay's role as founder/chair of Building Conservation International, a technical, nonprofit education organization, she develops training programs in fiber-optic lighting for George Washington University, Drexel University, and the American Society of Interior Designers. "To overcome the resistance to change," she says, "we need to get one visible job where people can see that it does the job."
As remote-source lighting systems improve, costs go down, and the lighting community discovers their advantages, in ten years we may see remote-source lighting commonly used to the benefit of the public and the environment.