Volume 3 Number 1
Copyright @1998 Rensselaer Polytechnic Institute
Hannover Messe

Forget Paris-Hannover, Germany, and New York City were the "cities of light" in 1997.
Nils Borg, editor of the International Association for Energy-Efficient Lighting (IAEEL) newsletter, reported spotting some exciting trends for ballasts and controls at Hannover. In addition, manufacturers, designers, and the Lighting Futures staff share their observations on both Hannover and Lightfair.
Trends in Europe
Ballasts are becoming more compact. The 30 by 28 mm size is emerging as the new standard for both one- and two-lamp ballasts with major European manufacturers moving toward this size for T8, T5 and 36, 40, and 55 watt twin-tube CFL ballasts. And "more ballasts, suitable for CFLs, are available in square shapes," said Borg. Borg also reported that OSRAM SYLVANIA, INC. (OSI) displayed a CFL ballast that doubled as a lampholder, reducing the wiring in the luminaire and eliminating separate lampholders.
"Although ballasts will soon be available for the whole range of T5 lamps," Borg said, "it will be at least a year before dimmable ballasts will be available for them because lamp specifications were not ready until recently. Specifications are not yet finalized for high output (HO) lamps and circular lamps."
Luminaire manufactures are now offering products that incorporate simple photosensors that connect directly to the ballast. Several manufacturers, including Tridonic, told Borg that by the year 2000 dimming ballasts are likely to include a standardized digital port. The industry, however, is divided as to how quickly and widely the new technology will replace analog ports, which are less expensive.
Borg also reported that ballasts with lower total harmonic distortion (THD) and improved power factors are becoming available.
Borg's report also cited new HID electronic ballasts, more low-wattage metal halide lamps, and increased miniaturization of products.
More opinions
Victor Roberts, electrical engineer for GE Corporate Research and Development also attended the Hannover show, but was generally disappointed in the technology advances. He noted a significant number of new products, particularly lamps and ballasts, that rely on older technologies. Roberts observed that Philips introduced a stand-alone electronic ballast that dims fluorescent lamps using incandescent phase-control dimmers. Also available was a line of dimming electronic ballasts offering daylight and motion detection as well as infrared control. He reported that these ballasts were available only for 230 volt systems.
Both Borg and Roberts reported new and improved induction lamp products and a large number of CFL products from Far Eastern nations. Many of these CFLs were low power (11 watt and less) screwbase quad lamps in frosted A-line-like bulbs. At the other extreme was a 56 watt screwbase CFL from Zheihang Sunlight Corporation of China.
Bob Horner, Fluorescent Product Group manager for OSI, observed a "slight spread of ceramic arc tube technology for metal halide (MH) lamps" at Hannover. He thought that the "main thing this year was the emphasis on fixtures for T2 and T5 fluorescent lamps for task, decorative, direct or indirect, pendant, and recessed lighting."
Ton Begemann, president of Advanced Lighting Concepts for Philips Lighting Holding, B.V., agreed with Horner's observation about T5 luminaires. "What we're seeing here is an absolute breakthrough. Every reputable luminaire manufacturer is showing a range of T5 luminaires in nice designs. It's clear there will be a new standard in American fixture manufacturing," he said.
Jerry Flauto, senior specialist, Worldwide Application Development for GE Lighting disagreed, "I think Hannover reflects a cautious wait-and-see attitude. T5 products will not move into the market like T8 products did because there are few retrofit opportunities. Each new lamp will require a new socket, ballast, and fixture."
Borg added that many of the new luminaires were not designed with the T5 in mind but are merely T8 luminaire designs adapted to the T5.
Begemann noted a significant increase in fiber optics. "There were more efficient fibers, better lamp optics, and coupling mechanisms on display. Still missing is the improved light generator," he said.
Top trends in lamps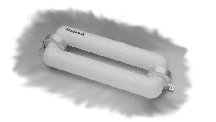 Endura's electrodeless lamp
OSI introduced a 150 watt, 12,000 lumen induction lamp that it calls Endura. Endura offers a rated life of 60,000 hours, the same as Philips' QL system, launched in 1991. (Borg explained that the U.S. rating for these same lamps is 100,000 hours.)The Endura lamp is a rectangle with a metal ring around each of the short sides of the lamp. The metal rings serve as antennae. With its 250 kHz operating frequency, Endura runs at a much lower frequency than either the GE Lighting or Philips induction lamps, which operate at MHz frequencies.
Borg reported that the OSI, Philips, and GE induction lamps are very different products for three separate niches, but OSI and Philips seem to be thinking along similar paths. Philips is planning a 12,000 lumen lamp, and OSI is planning a 100 watt, 7500 lumen package for 1998.
Philips' QL lamp no longer needs to be mounted in a shielded luminaire, which is a significant improvement. Philips displayed its 55 and 85 watt versions and also introduced a 165 watt QL lamp. Toplight (Belgium) showed the 85 watt lamp in an open reflector luminaire. The ballast is mounted at the top of the luminaire, which hangs by a chain or wire.
High output T5 lamps
GE, OSI, and Philips all presented high-output T5 lamps at Hannover. The new lamps generally offer fewer lumens per watt and are potentially more efficient optically than standard T5 lamps but have higher luminances (surface brightness) so discomfort from glare continues to be a potential problem. Standard T5 lamps (14, 21, 28, and 35 watt) have the same luminances (17,000 candelas per square meter); the luminances of high output T5 lamps vary from 23,000 to 37,000 cd/m2.
Philips Lighting's 1449 mm, 49 watt T5 high output lamps resemble the 35 watt standard T5 lamp, but are slightly less efficient (91 versus 96 lumens per watt including ballast loss). The 49 watt lamp may enable specifiers to reduce the number of luminaires or to use one-lamp luminaires instead of two-lamp luminaires.
OSI's 1449 mm, 80 watt T5 high output lamp offers a 7500 lumen package and a brightness of 37,000 candelas per square meter, making it almost three times as bright as the brightest T8 lamp. The lamp produces 87 lumens per watt, including ballast loss, but its size and luminance make it possible to design luminaires that are optically very efficient.
Circular T5 lamps
According to Borg, OSI and Philips gave a "sneak preview" of their circular T5 lamps, which will be offered in a 24 watt, 225 mm diameter version and 39 and 54 watt, 300 mm diameter versions with light outputs of 1900, 3300, and 4500 lumens. The lamps offer luminaire designers the opportunity to make compact circular and square luminaires or torchieres. Both manufacturers position the lamp's pins along the circular tube, which makes it more difficult to make a torchiere of opaque glass or plastic for these lamps, compared to the 2D lamp, which has pins in the center of the lamp.
Halogen lamps
Both OSI and Philips presented new dichroic reflector halogen lamps that use an infrared reflective coating on the inner halogen capsule to reflect heat back to the filament to reduce energy consumption. The low-voltage lamp consumes about 30% less energy than the equivalent best low-voltage halogen lamp. OSI claims that its version may be on the market this year. They will offer a 50 watt lamp that can directly replace a 65 watt lamp and a 35 watt version to replace a 50 watt lamp. These lamps will compete with previously introduced GE Lighting products.
Metal halide technology
Begemann said that the Philips booth attracted a good deal of attention with its ceramic discharge material (CDM) products. Philips showed a new "neutral white" 4200 K version of its ceramic metal halide lamp. The company's previous version had a "warm white" correlated color temperature (CCT) of 3000 K.
GE's Flauto said, "You're going to see more players in ceramic MH, because of its superior quality. It minimizes color shift ± 50 K CCT." So far, however, the new ceramic lamps are offered only in 35, 70, and 150 watt versions. GE, OSI, and Sylvania Lighting International are now introducing ceramic metal halide lamps in the 3000 K range.
The ceramic discharge technology is inherently more efficient than quartz technology since the discharge vessels are smaller and the smaller surface areas act to reduce heat loss. The ceramic metal halide lamps have rated lives from 6000 to 9000 hours. While ceramic metal halide lamps offer a possible solution to color shift over time and color variation between individual lamps, warm-up time is still slow, and restrike still requires special control gear
OSI's 70 and 100 watt lamp Designer Series uses quartz arc tubes and produces better color rendering and a more balanced spectrum than most standard metal halide lamps. Philips' new 70 watt 4200 K lamp, with a CRI above 90, also offers improved color stability over standard metal halide.
Philips reports a lumen depreciation of about 10 to 15% over the life of its lamp (using an electronic ballast), while GE's Technical Catalog lists a lumen depreciation for its lamps of as much as 50% after 6000 hours on a conventional ballast. The catalog also shows that GE's ceramic lamp actually becomes less efficient than its standard metal halide lamp after about 4000 hours. It has not been determined whether an electronic ballast would improve this performance.
The new lamps can be operated on the same ballasts as standard MH lamps of equivalent wattages. But OSI, Philips, and some independent ballast manufacturers now offer electronic ballasts specifically for these lamps. Philips' ballast operates on a frequency below 200 Hz.
OSI's new ballast for metal halide lamps operates at 22 kHz. However, OSI is not recommending the ballast for use with their ceramic lamps. Instead, they are developing a high-frequency ballast that operates at about 200 Hz, which reduces ballast loss by only a few percent. Borg reports that the higher frequency electronic ballasts usually reduce ballast loss by about 10% for 70 watt lamp systems.
Dateline New York
Lightfair International included 341 exhibitors and more than 15,000 attendees this year. In addition, special events and seminars provided focus on new products and insight into subjects such as landscape lighting and lighting for healthcare facilities, retail shops, and theaters. Discussions about utility deregulation, lighting design, lighting certification, and research rounded out the four-day trade show and conference at the Jacob K. Javits Convention Center in New York City.
Hot at Lightfair
Lighting Futures noticed an abundance of fiber optic manufacturers, showing everything from large, special effect systems to tiny, flexible wires used for decorative and glitzy applications. In addition to the usual contingent of lamp and luminaire booths, controls, ballasts and sensor manufacturers were well represented. Other exhibitors addressed disposal and environmental issues.
Lighting Futures talked with Brad Hutchinson, lighting designer with Tim Thomas & Associates. "I'm a fan of fiber optics," said Hutchinson. "I watched it from its infancy, when it was decorative for the most part. Now, fiber optics is becoming a meaningful and useful alternative design source.
"It's getting bright enough but will probably not replace recessed downlights. There's still the color issue, in that the color at the end of the fiber changes from what it was at the source. More research is being conducted and better lamps are now available."
"Lots of different architectural problems can be solved with fiber optics. For example, it's a natural in areas where it is difficult to change lamps or too dangerous to have electricity, such as for swimming pools."
"Fiber optic systems are boasting new technologies and the ability to filter light, more controls, and sophisticated designs," he continued. "I think fiber optics technology is new, fresh, and evolving, and I predict it will come into its own within the next decade."
Lightfair lamps
Three companies, GAL Lighting , Philips Lighting, and Technical Consumer Products, displayed integral CFLs or CFL adapters that can operate on standard incandescent phase-control dimmers. 8.5 thinks these will be important products for some commercial and industrial market segments, which may not have switched to CFLs because of a lack of phase dimming products.
GAL's introduction, a 120 volt triac dimmable adapter for the 20 watt quad lamp, was also shown at Hannover, but the display did not work properly at either show.
Philips Lighting showed a 23 watt screwbase dimmable SLS lamp, called the Earth Lamp Dimmable (SLS/D), to be ready this fall.
Philips Lighting and OSI displayed expanded lines of low mercury lamps, which meet the U.S. Environmental Protection Agency's Toxic Characteristic Leaching Procedure (TCLP) test. Philips says that, "by the end of 1997, 80% of all Philips linear fluorescent lamps will feature Alto (low mercury technology.)" In addition, Philips has 12 Alto triple-tube plug-in lamps and two ED-18 HPS lamps that all pass TCLP.
Two coats

UV Guard MH Lamp
GE Lighting introduced a new coating technology for its T8 lamps, which it calls Starcoat. The company said the proprietary coating technology provides GE T8 lamps with improved color rendering and 95% lumen maintenance. Available in the SP color (78 CRI), or the SPX color (86 CRI), the company says a variety of color temperatures, from warm to cool are available.
Venture Lighting, an Advanced Lighting Technologies Company, introduced a different coating technology. Its UV Guard line of metal halide lamps incorporates a special ultraviolet-filtering quartz shroud around the arc tube, which significantly reduces the yellowing of polycarbonate used in high-temperature, impact-resistant luminaires, the company said.
Harnessing light
At both Hannover and Lightfair, Fiberstars, Inc., headquartered in Fremont, CA., previewed a fiber optic illuminator that harnesses the light output of a 1000 watt sulfur lamp. Planned for production early in 1998, the Revolution 1000 system comprises an electric motor and magnetron at the base of the lamp. The motor spins the lamp at 3400 revolutions per minute, which prevents thermal stress on the lamp, while the magnetron bombards the sulfur inside the lamp with microwaves that cause the lamp to emit visible light without electrodes or filaments.
Perpetual Light Pump
The unit achieves a continuous light output of 133,000 lumens with minimal infrared and ultraviolet, according to the company. According to Fiberstars, the high lumen output will enable a single fiber optic illuminator with a single sulfur lamp to replace a quantity of halogen lamps in recessed ceiling and other point-source luminaires.
Remote Source Lighting International, Inc., introduced the Perpetual Light Pump, a fiber optic illuminator that uses the Solar 1000 sulfur lamp with up to 53 12 mm fiber ports.
All things large and small
The OptiFlex light pipe from Rohm and Haas of Philadelphia is a large diameter (3.2 mm, 5.1 mm, or 12.7 mm), solid-core fiber optic cable intended for remote source lighting for the retail display, visual merchandising, entertainment, and sign markets. Available in both side- and end-emitting versions, it provides remote source lighting with minimal infrared and ultraviolet, and can provide multiple points of light from one source with special effects such as color changes.
On the opposite end of the size scale, Live Wire offers an ultrathin flexible copper cable coated with electroluminescent semiconductors. It comes in ten colors and provides even light along the length of an 800 foot cable. The cable is flexible enough to coil around a standard pencil, according to the company. Live Wire can be operated on alternating current or by a small battery pack.
Many of these new fiber optic products are possible because of the 1000 watt sulfur lamp from Fusion Lighting, Inc. of Rockville, Md. At Lightfair, the company announced a new power supply that is fully contained within a lamp module unit that adds only 1 kilogram (2.2 pounds). The new power supply allows the lamp to be dimmed to 20% with very little color change.
According to Steve Mulé, Fusion's director of Sales and Marketing, the Solar 1000 lamp will make its way into a wide variety of applications within the next year.
Remote accessories and alternatives
Lumenyte International Corporation, of Costa Mesa, CA, announced a new European patent for its Clear Coat jackets for fiber optics. Materials can be added to the coating to inhibit ultraviolet effects and to provide algaecides, fungicides, and fire retardants. In addition, opaque compounds can be added to prevent light from being viewed along the side of the fiber.
Another new product from Lumenyte is its Interlock Optical Fiber and Track that helps protect fiber optic cable from severe weather changes. The clear outer jacket of the fiber has a key-shaped surface and interlocks with a matching custom track that allows for expansion and contraction of the plastic fiber.
EL Lightstrip from RSA Lighting in Chatsworth, CA. is an electroluminescent linear ribbon (up to 1500 feet long) that contains phosphors and fluorocarbons that produce a continuous band of light when stimulated dielectrically. Available in several colors and in widths from 3/16 to 22 1/2 inches, it is dimmable to 3% and is operated with one power transverter. The light source consists of a light-emitting phosphor layer sandwiched between two insulating surfaces.
Lightron of Cornwall, New Windsor, NY, introduced the MultiBeam 2000, which it developed with assistance from New York State Energy Research and Development Authority. Multibeam 2000 transports light from a single high-efficiency lamp to multiple passive luminaires producing multiple light beams. Using a 100 watt PAR38 metal halide lamp, the light travels from the central source along four connected light pipes to multiple recessed adjustable apertures located as far as 10 feet from the source. The company says the system provides two times the beam intensity at less than half the electrical power per beam as well as reduced electrical distribution hardware and installation cost per beam as a halogen PAR38 lamp and that the light beams contain no heat.
Controlling control
GE Total Lighting Control (TLC) introduced its new Softwired Switching System (SWS) for smaller network applications where occupants may need to override the system. The SWS permits isolated use of lighting while keeping larger areas on the preprogrammed schedule. GE said the new product responds to recent trends in the lighting control industry for more flexible, interoperable systems.
Torchieres
At least four manufacturers, GE, Panasonic, Wyndham Hall, and OSI, displayed torchieres or lamps for torchieres.
Wyndham Hall, a subsidiary of Advanced Lighting Technologies, Inc., displayed a torchiere that includes a 75 watt Microsun metal halide lamp and two incandescent lamps for use when less than the 6000 rated lumens of the MH lamps is desired.
Panasonic offered a family of four-pin, 3000 K CFLs that seem ideal for torchiere applications. The lamps are dual circline lamps with connecting bridges. The lamps are available in three wattages (97, 68, and 41) with lumen outputs of 8800, 5700, and 3100.
GE Lighting displayed two CFL torchieres using 55 watt amalgam 2D lamps, which operate on a dimming ballast from Energy Savings Inc.
OSI's torchiere uses two 32 watt CFLs and was developed with Lawrence Berkeley National Laboratory. The torchiere switches to produce two different light levels (one or both lamps on).
On to Las Vegas
Howard Brandston of H.M. Brandston & Associates, thought Lightfair 97 seemed smaller than previous shows. "The major lamp and ballast people are showing fewer products in smaller booths," he said. He suggested holding the show every other year so that more new products could be exhibited. A few people who spoke to Lighting Futures suggested holding the show in New York every year.
Unlike Brandston, Hutchinson was not disappointed in this year's show, but he suggested that Lightfair should try to get more European designers to exhibit. "American manufacturers bring in product from European product lines to sell here. [But] they choose those product offerings based on their inventory, cost, and what their competition is showing. I might be interested in other criteria. A company from Europe that exhibited at Lightfair showed some very interesting stuff. I was very pleased to see it and hope Lightfair can attract more European companies in the future."
Other attendees said that the seminars and workshops could be more challenging. For people who have attended several shows and have been in the business for a few years, not much new, different, or ambitious is being offered. Perhaps more "master's classes" could be offered for these people.
Lightfair's show management argued that the 1997 show established new attendance records.