Energy Efficiency Site Unveiled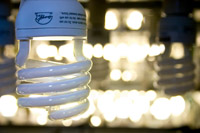 The LRC recently revamped the Lighting Transformations portion of its website to better direct visitors to the Center's online resources concerning energy efficiency. The aptly named "Energy Efficiency" section can be viewed here.

"Most of the work conducted at the LRC relates to energy efficiency in some way. The new website reflects this by guiding people to ongoing and completed projects across all of the research programs," according to Jeremy Snyder, Energy Efficiency Program Director.

The website has separate sections for homeowners and professionals, and information for both audiences is provided on design, controls, and luminaires and light sources. New content is being developed for the website, such as a consumer guide to upgrading incandescent lamps in anticipation of the EISA 2007 phase-out, and additional content will be added on an ongoing basis. "I'd like to hear from LRC's partners about how the Energy Efficiency program can best meet their needs," said Snyder.



About the Lighting Research Center

The Lighting Research Center (LRC) is part of Rensselaer Polytechnic Institute of Troy, N.Y., and is the leading university-based research center devoted to lighting. The LRC offers the world's premier graduate education in lighting, including one- and two-year master's programs and a Ph.D. program. Since 1988 the LRC has built an international reputation as a reliable source for objective information about lighting technologies, applications, and products. The LRC also provides training programs for government agencies, utilities, contractors, lighting designers, and other lighting professionals. Visit http://www.lrc.rpi.edu.