LED Fixtures
Light-emitting diodes (LEDs) are electronic devices composed of semiconductor diodes. Consumers can purchase LEDs that are integrated in a wide range of fixtures such as downlights, track lights, task lights, nightlights, and under-cabinet fixtures. The list of LED lighting products is expanding rapidly.
When LEDs are integrated into the fixture, they do not mount in a socket to be replaced upon failure. Upon failure, typically the entire LED fixture would need to be replaced. Some fixture-integrated LED products have a modular, detachable LED component that is, theoretically, replaceable at a later date.
The advantages of fixture-integrated LEDs over LED bulbs are that they can be designed to optimize heat management and light distribution, and therefore improve light output and life of the system.
Like other electronic devices, controlling the temperature of an LED is one of the most important aspects of optimum performance. Excessive heat can reduce light output and shorten the life of the LEDs. While ambient air temperature is one component of the actual temperature at the LED device, also important are the power of the device and the heat sinking in and around the LED. Many LED products have metal fins to extract heat from the device and radiate it from a larger surface area.
The need for heat management is important to consider when choosing where to install LEDs in the home. There must be ventilation to cool heated surfaces. Locating LEDs in an insulated and relatively small space may result in rapidly increased component temperature and suboptimal performance. Follow manufacturer recommendations or warnings for installation.
While heat management is critically important, LEDs are typically cooler to the touch than conventional incandescent sources. This makes them suitable for areas where people may touch them, such as task lights in a child's bedroom.
Some LED products may cost more initially than conventional lighting technologies. Over the life of the product, however, LEDs may cost less to own due to low power demand and expected long life. Homeowners are encouraged to perform their own cost/benefit calculations to determine feasibility of adopting this promising lighting technology.
Additional Information
LED Lighting: An interactive video presentation
LED lighting can provide energy efficient, high quality lighting in many settings. The Lighting Research Center and NYSERDA present the following interactive video to assist contractors, building professionals, and other lighting installers with the often confusing process of selecting and installing solid-state lighting equipment for a particular application. Topics of the video include product selection, advantages and challenges of LED products, economic calculations, installation tips, and links to other available resources. Viewers can earn professional continuing education credits by watching the video and using the interactive features. Adobe Flash and a broadband internet connection are required.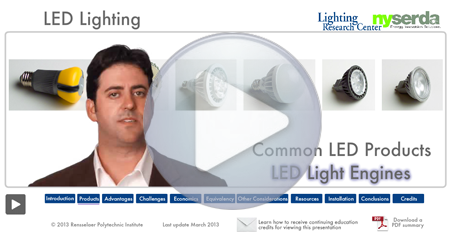 (Note: You must have Flash Player 11 or later installed to view the presentation. Click here to download Flash player.)
Example Patterns