News from the Lighting Research Center
Rensselaer Polytechnic Institute



Contact:
Lighting Research Center
518-276-7100
lrc@rpi.edu
Troy, N.Y. - 4/18/2019



LRC Establishes Industry Consortium to Explore Additive Manufacturing for Lighting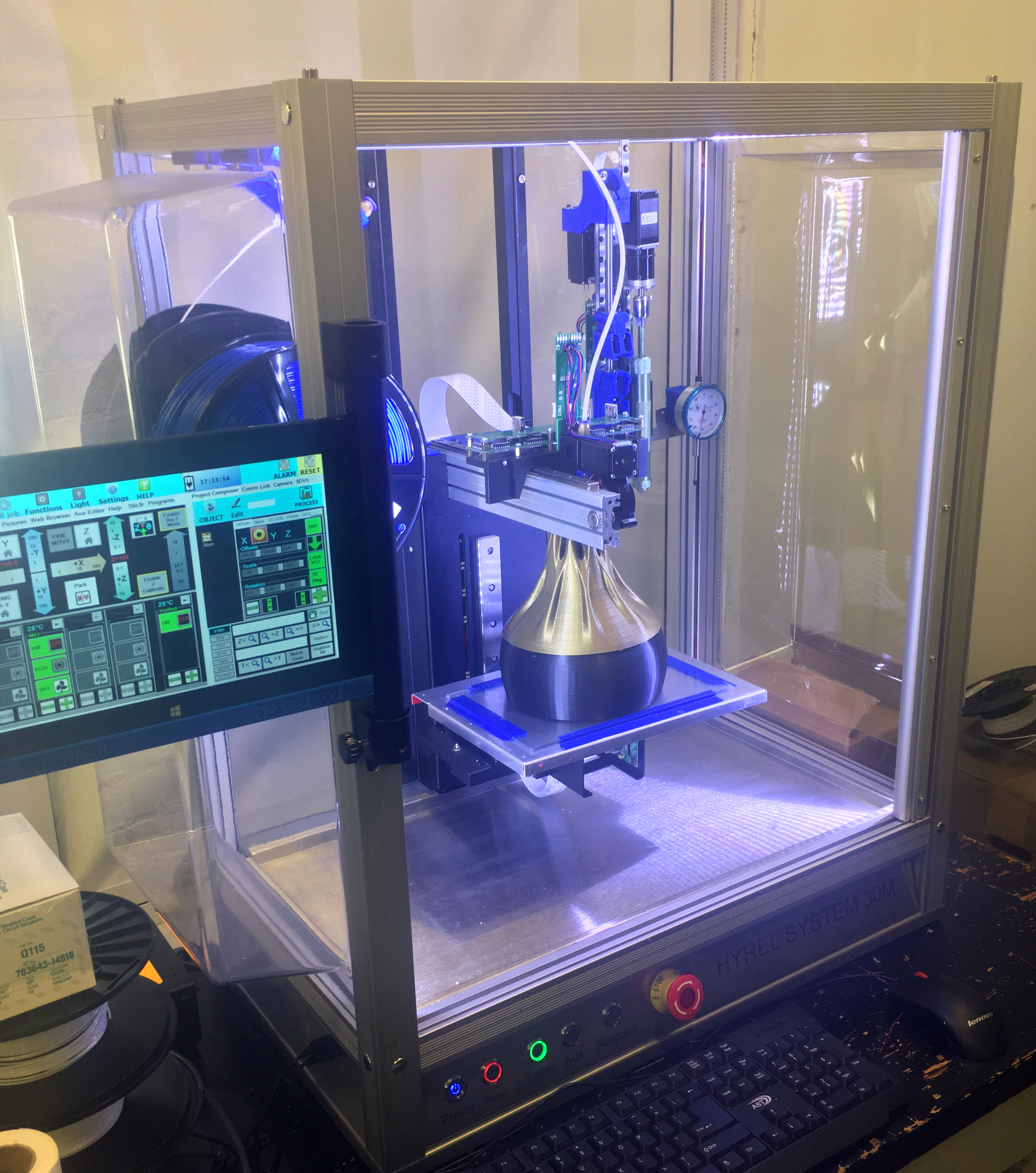 Building upon the progress made during a recent workshop, the Lighting Research Center (LRC) at Rensselaer Polytechnic Institute has formally established the Additive Manufacturing for Lighting Consortium. The consortium will help bridge the knowledge gap between the lighting and 3D printing industries and build a collaboration for successful adoption of additive manufacturing for high-quality, value-added lighting.
The consortium, composed of lighting and 3D printer and material manufacturers, convened its first meeting on April 2 and is now setting a course to understanding and assimilating additive manufacturing as a viable option for the lighting, building, construction, and allied lighting industries. The objectives for the consortium's first year include market assessment, education, and collaboration on pilot research projects. These activities will help the group to better understand the needs of the two industries, the possibilities, and the present status of the additive manufacturing industry's capabilities relevant to lighting.
Nadarajah Narendran, Ph.D., the LRC's Director of Research, said the group's long-term goal is to build a center of excellence that will offer best practices and solutions for additive manufacturing of lighting systems. "In the future, we hope that the consortium will provide market intelligence, technology guidance, and standards representation, among other competency-building activities, which will enable companies to address this transformation proactively," he said.
Dr. Narendran added, "Together with the consortium members, the LRC is leading the transformation of the lighting industry to the digital era by preparing the two industries for the changes ahead."
---
About the Lighting Research Center
The Lighting Research Center (LRC) at Rensselaer Polytechnic Institute is the world's leading center for lighting research and education. Established in 1988 by the New York State Energy Research and Development Authority (NYSERDA), the LRC conducts research in light and human health, transportation lighting and safety, solid-state lighting, energy efficiency, and plant health. LRC lighting scientists with multidisciplinary expertise in research, technology, design, and human factors, collaborate with a global network of leading manufacturers and government agencies, developing innovative lighting solutions for projects that range from the Boeing 787 Dreamliner to U.S. Navy submarines to hospital neonatal intensive-care units. In 1990, the LRC became the first university research center to offer graduate degrees in lighting and today, offers a M.S. in lighting and a Ph.D. to educate future leaders in lighting. Learn more at www.lrc.rpi.edu.
About Rensselaer Polytechnic Institute
Founded in 1824, Rensselaer Polytechnic Institute is America's first technological research university. Rensselaer encompasses five schools, 32 research centers, more than 145 academic programs, and a dynamic community made up of more than 7,900 students and more than 100,000 living alumni. Rensselaer faculty and alumni include more than 145 National Academy members, six members of the National Inventors Hall of Fame, six National Medal of Technology winners, five National Medal of Science winners, and a Nobel Prize winner in Physics. With nearly 200 years of experience advancing scientific and technological knowledge, Rensselaer remains focused on addressing global challenges with a spirit of ingenuity and collaboration.