News from the Lighting Research Center
Rensselaer Polytechnic Institute



Contact:
Rebekah Mullaney
Lighting Research Center
(518) 276-7118
mullar2@rpi.edu
Troy, N.Y. - 8/21/2017



LRC Professor Mark Rea to Deliver Invited Lecture at U.S. Office of Naval Research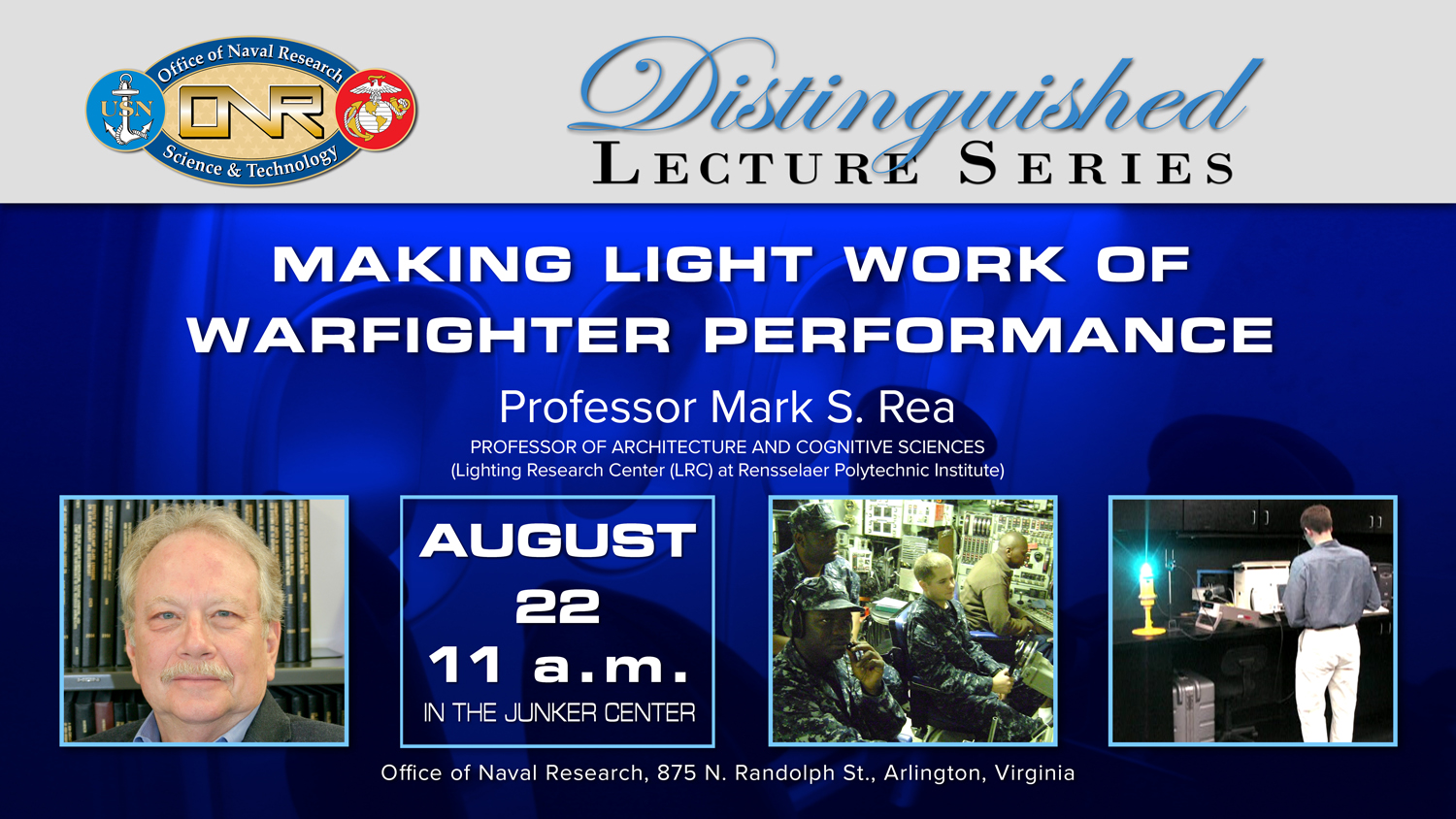 Mark S. Rea, Ph.D., Professor of Architecture and Cognitive Sciences at Rensselaer's Lighting Research Center (LRC) will deliver an invited lecture at the U.S. Office of Naval Research (ONR) to the local science and technology community, including leadership and program officers from the National Science Foundation (NSF), Defense Advanced Research Projects Agency (DARPA), and the Pentagon. The talk is part of the ONR
Distinguished Lecture Series
, which features groundbreaking innovators who have made a major impact on past research or are working on discoveries for the future. The lecture will take place on Tuesday, August 22, 2017 at the Office of Naval Research in Arlington, Virginia.
Dr. Rea's talk is titled, "
Making Light Work of Warfighter Performance
." He will present a sampling of past and present lighting projects conducted at the LRC, which are relevant to warfighter performance. The LRC has helped to implement new duty schedules and lighting systems on U.S. Navy submarines, developed methods for enhancing the performance of warfighters at night, improved the functionality of airfield landing lights, and developed potential early warning systems for naval aviators becoming hypoxic. These successful projects have relied upon a basic understanding of retinal neuroscience and a practical knowledge of lighting system performance.
Previous ONR Distinguished Lecturers include former Google VP Dr. Andrew Moore, MacArthur Genius Award recipient Dr. Mark Hersam, Nobel Laureate Dr. William Phillips, and Secretary of Defense General James Mattis.
Dr. Rea is well known for his research in circadian photobiology, mesopic vision, psychological responses to light, lighting engineering, and visual performance. He is the author of more than 250 scientific and technical articles related to vision, lighting engineering, and human factors and was the editor-in-chief of the 8th and 9th editions of the Illuminating Engineering Society (IES) Lighting Handbook. He has been elected Fellow of the Society of Light and Lighting (UK) and Fellow of the IES. In addition, he is recipient of the IES Medal. Rea has also been honored with the William H. Wiley Distinguished Faculty Award for those who have won the respect of the faculty at Rensselaer through excellence in teaching, productive research, and interest in the totality of the educational process. Dedicated to the notion that our society undervalues light because we do not properly measure its benefits, his recent book Value Metrics for Better Lighting brings together a wide range of research to illustrate how the effective use of light can benefit society and the environment. He served as LRC Director from 1988 to 2017.
---
About the Lighting Research Center
The Lighting Research Center (LRC) at Rensselaer Polytechnic Institute is the world's leading center for lighting research and education. Established in 1988 by the New York State Energy Research and Development Authority (NYSERDA), the LRC conducts research in light and human health, transportation lighting and safety, solid-state lighting, energy efficiency, and plant health. LRC lighting scientists with multidisciplinary expertise in research, technology, design, and human factors, collaborate with a global network of leading manufacturers and government agencies, developing innovative lighting solutions for projects that range from the Boeing 787 Dreamliner to U.S. Navy submarines to hospital neonatal intensive-care units. In 1990, the LRC became the first university research center to offer graduate degrees in lighting and today, offers a M.S. in lighting and a Ph.D. to educate future leaders in lighting. Learn more at www.lrc.rpi.edu.
About Rensselaer Polytechnic Institute
Founded in 1824, Rensselaer Polytechnic Institute is America's first technological research university. Rensselaer encompasses five schools, 32 research centers, more than 145 academic programs, and a dynamic community made up of more than 7,900 students and more than 100,000 living alumni. Rensselaer faculty and alumni include more than 145 National Academy members, six members of the National Inventors Hall of Fame, six National Medal of Technology winners, five National Medal of Science winners, and a Nobel Prize winner in Physics. With nearly 200 years of experience advancing scientific and technological knowledge, Rensselaer remains focused on addressing global challenges with a spirit of ingenuity and collaboration.