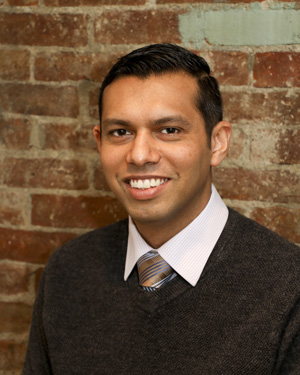 Lighting Research Center (LRC) graduate and scientist Indika Perera, Ph.D., was recently named a recipient of the Architectural Research Centers Consortium (ARCC) 2017 Dissertation Award Honorable Mention. The ARCC Dissertation Award is intended to honor significant new research in architecture and environmental design and to recognize the achievement of an emerging scholar. His dissertation is entitled, "Thermal Analysis of LED Phosphor Layer."
Dr. Perera earned his Ph.D. in architectural sciences with a concentration in lighting from Rensselaer in December 2015. In 2016, he joined the LRC as a research scientist.
In the past decade, architectural lighting has undergone a major transformation. LRC researchers have made significant contributions to the rapid evolution of solid-state lighting (SSL) since the introduction of white light-emitting diodes (LED) during the latter part of the 1990s. Today, SSL has evolved to a point where the LED is now the preferred light source for many lighting applications. The LRC is currently expanding its scope of research and educational programs in SSL to enhance this technology, overcome barriers, and show benefits beyond energy savings. LRC graduate students participate in real-world projects that enable leading-edge lighting technologies that contribute to sustainable architecture and are beneficial to people. These experiences make LRC graduates very valuable in the lighting industry.
Although white LED general lighting has matured considerably, research is still ongoing to meet market demands for higher power LED and laser-based white light sources. Such sources are creating higher thermal loading on the phosphor layer and introducing negative effects. Dr. Perera's dissertation is the first study to analyze both heat and light generation simultaneously within a phosphor layer of a down-converted LED system. It also analyzes the volumetric temperature distribution of the phosphor layer and the effect on localized light generation. Thermal management is important because the useful life of such systems can be quite short and the light output can be low if the generated heat is not dissipated properly to keep the operating temperature below a certain threshold. In his dissertation, a theoretical model was developed to study light propagation and heat transfer in the phosphor layer. This model was used to identify the factors that influence system performance with respect to light output and phosphor layer operating temperature. Additionally, experiments were conducted to validate the model and show how the model can be used as a predictive tool by system designers to develop optimized lighting products.
"The technology improvement and theoretical detail of Dr. Perera's study have broad implications for sustainable architecture and future solid-state light sources," said Rensselaer Professor Nadarajah Narendran, Ph.D., LRC Director of Research and the thesis advisor. "Dr. Perera's study adds significant new knowledge to the field of thermal management of solid-state light sources."
Dr. Perera was awarded the National Development Bank Award for the Best Mechanical Engineering Candidate for the years 2003/2004, the Robert J. Besal Fund Scholarship in 2012, the Rensselaer's Founders Award of Excellence in 2012, the Architectural Research Centers Consortium's King Student Medal in 2014, the Joules Horton International Student Achievement Award in 2014, and the Illuminating Engineering Society New York City Section (IESNYC) Thesis Prize in 2016. He has a number of publications in peer-reviewed journals and has served as a reviewer for a number of journals. His work on phosphor heat generation, titled "Mathematical model to analyze phosphor layer heat transfer of an LED system," was one of the most downloaded papers from the SPIE Digital Library in February 2015. He is a member of the Illuminating Engineering Society of North America, the American Institute of Mechanical Engineers, and the International Society for Optics and Photonics.
For more information on Dr. Perera's dissertation and other publications, visit: