News from the Lighting Research Center
Rensselaer Polytechnic Institute



Contact:
Lighting Research Center
518-276-7100
lrc@rpi.edu
Troy, N.Y. - 9/22/2015



NIOSH-CDC Awards $2.2 Million for Light and Health Research to the Lighting Research Center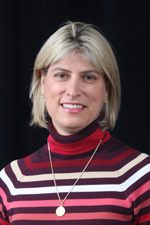 The National Institute for Occupational Safety and Health (NIOSH) and the Centers for Disease Control and Prevention (CDC) have awarded $2.2 million to Rensselaer Professor Mariana Figueiro, Light and Health Program Director at the Lighting Research Center at Rensselaer, to support research that could benefit the more than 7 million Americans working rotating or night shift schedules. The four-year R01 grant from NIOSH-CDC will focus on lighting interventions to reduce circadian disruption in shift workers.
In the U.S. and Europe, 15-20% of all full-time wage and salary workers work alternative shifts. Night shift work, especially prevalent among nurses and other healthcare workers, requires inverting the activity-rest cycle. As a result, shift workers are more likely to experience sleepiness and insomnia, along with decreased productivity, impaired safety, diminished quality of life, and adverse health effects. Light can help night- and rotating-shift workers to stay awake, in part due to suppression of melatonin, but melatonin suppression and the resulting circadian disruption has been linked to increased risk for metabolic syndrome, diabetes, cardiovascular disease, and certain cancers.
Figueiro has demonstrated in laboratory studies that short-wavelength (blue) and long-wavelength (red) light increases alertness and performance at night, although only blue light significantly suppresses melatonin, suggesting that melatonin suppression is not required to promote nighttime alertness and improve performance. The research funded by this most recent R01 grant will field test these laboratory results in a healthcare setting, testing the use of a novel lighting intervention utilizing red light to increase alertness and improve performance in healthcare shift workers without disrupting their natural melatonin production. If shown effective, non-pharmacological treatments to reduce errors in hospital settings and improve quality of life can be applied to help healthcare workers cope with irregular nighttime work schedules without disrupting their circadian rhythms.
Figueiro is also the Principal Investigator for two other multi-year R01 grants from the National Institute on Aging (NIA) aimed at understanding how light can improve sleep in older adults, including those with Alzheimer's disease and related dementias.
---
About the Lighting Research Center
The Lighting Research Center (LRC) at Rensselaer Polytechnic Institute is the world's leading center for lighting research and education. Established in 1988 by the New York State Energy Research and Development Authority (NYSERDA), the LRC conducts research in light and human health, transportation lighting and safety, solid-state lighting, energy efficiency, and plant health. LRC lighting scientists with multidisciplinary expertise in research, technology, design, and human factors, collaborate with a global network of leading manufacturers and government agencies, developing innovative lighting solutions for projects that range from the Boeing 787 Dreamliner to U.S. Navy submarines to hospital neonatal intensive-care units. In 1990, the LRC became the first university research center to offer graduate degrees in lighting and today, offers a M.S. in lighting and a Ph.D. to educate future leaders in lighting. Learn more at www.lrc.rpi.edu.
About Rensselaer Polytechnic Institute
Founded in 1824, Rensselaer Polytechnic Institute is America's first technological research university. Rensselaer encompasses five schools, 32 research centers, more than 145 academic programs, and a dynamic community made up of more than 7,900 students and more than 100,000 living alumni. Rensselaer faculty and alumni include more than 145 National Academy members, six members of the National Inventors Hall of Fame, six National Medal of Technology winners, five National Medal of Science winners, and a Nobel Prize winner in Physics. With nearly 200 years of experience advancing scientific and technological knowledge, Rensselaer remains focused on addressing global challenges with a spirit of ingenuity and collaboration.