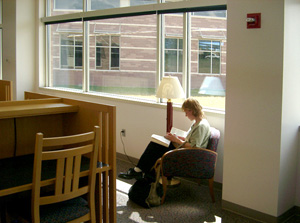 The visibility of an alarm signal, such as the one on the wall above this reader, can alert occupants effectively in an emergency.
Flashing visual alarms are a critical element of emergency notification systems in buildings. They help ensure that individuals with hearing loss or in otherwise noisy environments are aware of emergencies and other situations requiring their attention. The performance of a flashing visual alarm signal is defined in terms of its effective intensity, which is the luminous intensity of a steady-burning (non-flashing) light that has the same visibility as the flashing signal. Effective intensity was defined more than a century ago for navigational searchlights and signal lights, often viewed in darkness from miles away, when the signal light is barely visible. In contrast, building occupants need to detect visual alarms for emergency notification in illuminated interior spaces, and often when the alarm signal is not in the field of view. In these situations, occupants do not see the alarm but the periodic increase and decrease in the brightness of room walls and other surfaces.
Researchers John Bullough, Nicholas Skinner and Yiting Zhu, of the Lighting Research Center (LRC) at Rensselaer Polytechnic Institute, carried out experiments to measure occupants' ability to detect visual alarms outside their field of view under different room light levels and while performing different visual tasks. Visual alarms using xenon strobe and solid-state, light-emitting diode (LED) sources flashed at random intervals during the experiments; strobe sources have very short flash durations much shorter than a millisecond, and the LED alarms used different durations from 1 to 100 milliseconds.
"Two alarms with the same effective intensity but different flash durations didn't produce equal detection rates," said Bullough, principal investigator of the study. "When the alarms were viewed indirectly, one might be seen almost all the time while the other might be nearly imperceptible."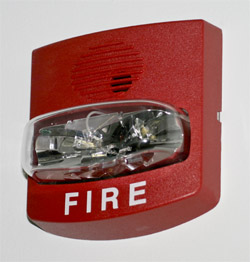 The LRC team devised a new metric from their experimental results, which they named the indirect effectiveness quantity (IEQ). The IEQ is a modification of effective intensity based on indirect viewing conditions in lighted building spaces. Importantly, two lights with the same IEQ value produced equal detectability, regardless of their flash durations.
The study was funded through an industry consortium including Siemens, Honeywell, SimplexGrinnell, the National Electrical Manufacturers Association, Bosch Security Systems, and Gentex Corporation, and was managed by the Fire Protection Research Foundation (FPRF) of the National Fire Protection Association.
"With the evolution in new solid state lighting technologies, better metrics for characterizing the performance of visual emergency notification are needed to ensure that they alert building occupants to an emergency situation," said FPRF project manager Amanda Kimball.
Bullough, Skinner and Zhu hope that committees developing standards for emergency alarms will be able to use the data from their study to improve performance specifications for these critical life-safety systems. The results of their study, "Indirect Detection of Visual Signals for Emergency Notification," was published in the journal, Fire Technology, and is available online.