News from the Lighting Research Center
Rensselaer Polytechnic Institute



Contact:
Rebekah Mullaney
Lighting Research Center
(518) 276-7118
mullar2@rpi.edu
Troy, N.Y. - 4/27/2015



LRC Issues New Guide to Selecting LED Troffers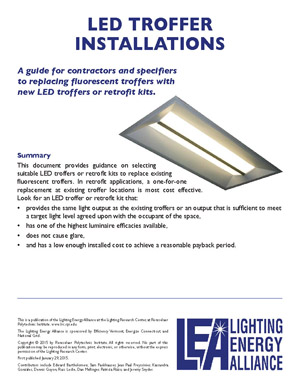 The Lighting Research Center at Rensselaer Polytechnic Institute has released a new guide for contractors and specifiers who are replacing existing fluorescent troffers with new LED troffers or retrofit kits.
The guide,
LED Troffer Installations
, provides step-by-step instructions on selecting suitable LED troffers or retrofit kits, along with sample calculations. Lighting contractors and specifiers will benefit from the simple, straightforward explanations of the many factors that should be taken into consideration when selecting LED troffers or retrofit kits to replace existing fluorescent troffers: adequate illuminance, energy savings, occupant satisfaction, payback period, and lighting controls. Development of the guide was sponsored by the
Lighting Energy Alliance
.
About the Lighting Energy Alliance
The Lighting Energy Alliance (LEA) at Rensselaer's Lighting Research Center is a collaboration of members whose common goal is to conduct research to increase the benefits of lighting while reducing its environmental and monetary costs. LEA works to identify effective new ways to save energy, quantify the savings, and support its members in implementation. LEA invites utilities, efficiency agencies, and ESCOs to join its efforts. The charter members are
Efficiency Vermont
,
National Grid
and
Energize Connecticut
.
About Efficiency Vermont

Efficiency Vermont was created by the Vermont Legislature and the Vermont Public Service Board to help all Vermonters reduce energy costs, strengthen the economy, and protect Vermont's environment. For more information, contact Efficiency Vermont at 888-921-5990 or visit
EfficiencyVermont.com
.
About National Grid


National Grid
is an electricity and gas company that connects consumers to energy sources through its networks. The company is at the heart of one of the greatest challenges facing our society—to create new, sustainable energy solutions for the future and developing an energy system that underpins economic prosperity in the 21st century. National Grid holds a vital position at the center of the energy system and it 'joins everything up'. In the northeast U.S., we connect more than seven million gas and electric customers to vital energy sources, essential for our modern lifestyles. National Grid delivers electricity to approximately 3.3 million customers in Massachusetts, New York and Rhode Island. It is the largest distributor of natural gas in northeastern U.S., serving approximately 3.4 million customers in New York, Massachusetts and Rhode Island.
About Energize Connecticut


Energize Connecticut helps you save money and use clean energy. It is an initiative of the Energy Efficiency Fund, the Clean Energy Finance & Investment Authority, the State, and your local electric and gas utilities, with funding from a charge on customer energy bills. Information on energy-saving programs can be found at
EnergizeCT.com
or by calling 1.877.WISE.USE.
---
About the Lighting Research Center
The Lighting Research Center (LRC) at Rensselaer Polytechnic Institute is the world's leading center for lighting research and education. Established in 1988 by the New York State Energy Research and Development Authority (NYSERDA), the LRC conducts research in light and human health, transportation lighting and safety, solid-state lighting, energy efficiency, and plant health. LRC lighting scientists with multidisciplinary expertise in research, technology, design, and human factors, collaborate with a global network of leading manufacturers and government agencies, developing innovative lighting solutions for projects that range from the Boeing 787 Dreamliner to U.S. Navy submarines to hospital neonatal intensive-care units. In 1990, the LRC became the first university research center to offer graduate degrees in lighting and today, offers a M.S. in lighting and a Ph.D. to educate future leaders in lighting. Learn more at www.lrc.rpi.edu.
About Rensselaer Polytechnic Institute
Founded in 1824, Rensselaer Polytechnic Institute is America's first technological research university. Rensselaer encompasses five schools, 32 research centers, more than 145 academic programs, and a dynamic community made up of more than 7,900 students and more than 100,000 living alumni. Rensselaer faculty and alumni include more than 145 National Academy members, six members of the National Inventors Hall of Fame, six National Medal of Technology winners, five National Medal of Science winners, and a Nobel Prize winner in Physics. With nearly 200 years of experience advancing scientific and technological knowledge, Rensselaer remains focused on addressing global challenges with a spirit of ingenuity and collaboration.