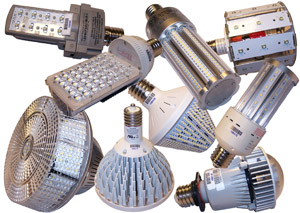 The rapidly changing landscape of lighting in the U.S., largely due to the widespread acceptance of light-emitting diode (LED) technology, has opened a universe of new possibilities regarding LED replacement lamps. There are 144 million high-intensity discharge (HID) lamps in the U.S., representing only 2% of the installed lamp inventory. However, HID lamps have a significant impact on energy use, consuming 26% of lighting energy nationwide. HID lamps are used primarily in outdoor applications such as roadways, parking lots and building exteriors, but are also used in commercial interior and industrial applications. Mogul base LED replacement lamps are currently being marketed as equivalent replacements for incumbent HID lamps.
Replacing HID lamps with those utilizing LED technology could potentially provide a substantial reduction in energy use; however, there is a critical need for objective technical information regarding the many LED replacement options currently available. In response, the Lighting Research Center (LRC) at Rensselaer Polytechnic Institute has been conducting evaluations of LED replacement lamps, most recently, those with a mogul base. For this project, LRC conducted market characterization and performance testing of mogul base LED lamps to support cost-effective retrofits for multiple types of lighting applications, from high bay and post top, to wall pack, yard light, and cobra head.
LRC recently completed Phase 1 of the project, and has authored a new report which provides details of the market characterization and pilot photometric testing of 18 representative mogul base LED lamps alone and in luminaires. LRC also conducted a comprehensive survey of specifiers to identify key considerations for lamp selection and relevant luminaire performance characteristics for various lighting applications (e.g., light output, intensity distribution, size), to support the development of a performance testing plan, the results of which are also included in the report. Phase 2 is now underway, consisting of additional performance testing of mogul base LED lamps in representative luminaire types. The results of Phase 2 testing will be released as they become available.
The report was funded by the Bonneville Power Administration (BPA) as an assessment of the state of technology development and the potential for emerging technologies to increase the efficiency of electricity use. BPA is undertaking a multi-year effort to identify, assess and develop emerging technologies with significant potential for contributing to efficient use of electric power resources in the Northwest.
"The market is changing so rapidly—and with any new product, it's important to understand the full range of quality and performance available to consumers," said John Wilson, Commercial & Industrial Lighting Program Manager at the Bonneville Power Administration. "This research will help utilities in the Pacific Northwest to make smart and reliable investments in energy efficiency."
LRC found that only 4 of the 18 lamps met the minimum DesignLights Consortium Qualified Products List criteria for retrofit kits when the lamps were placed in area lighting and roadway luminaires. The lamps tested in wall pack and high bay luminaires did not meet the applicable minimum efficacy criteria for retrofit kits.
The report is available free to the public at: https://www.bpa.gov/EE/Technology/EE-emerging-technologies/Projects-Reports-Archives/Documents/Mogul_LED_Lamps_LRC_BPA_Phase1_finalNov24.pdf