News from the Lighting Research Center
Rensselaer Polytechnic Institute



Contact:
Rebekah Mullaney
Lighting Research Center
518.687.7100
mullar2@rpi.edu
Troy, N.Y. - 9/23/2014



LRC Partners with NYSERDA and NYSDOT to Develop Sustainable Roadway Lighting Seminars, Guidebook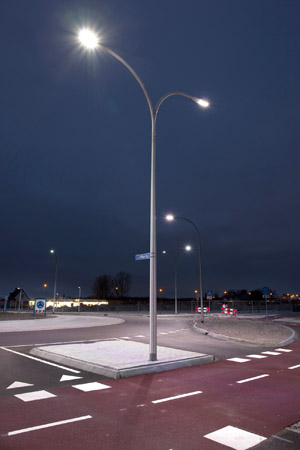 Until recently, roadway lighting technologies changed very slowly. Technologies like high pressure sodium (HPS) and other high intensity discharge (HID) lamps used in cobra head-style fixtures were state-of-the-art for decades. In response, the best practices for roadway lighting design had remained largely unchanged since the 1970s and 1980s. A growing concern for preventing light pollution in the 1990s and 2000s morphed the dropped lenses of cobra head fixtures to flat glass windows, but this did not fundamentally change lighting design methods and standards, and tried and true tools for roadway lighting design from a generation ago continued to be useful.
Fast forward to 2014, and the roadway lighting landscape is changing rapidly. Agencies responsible for designing and maintaining safe roadways have a bewildering array of options for roadway lighting design including not only HPS systems that still make up the majority of roadway illumination systems on roads, but also light emitting diode (LED) technologies, new forms of ceramic metal halide (CMH) lamps, fluorescent induction lamps, and plasma light sources. Controls for these lighting systems are making dimming and switching easier as well, so street lights don't need to burn continuously from dusk to dawn as they have for decades. Unfortunately, there has been a lack of objective information available regarding current options for sustainable roadway lighting.
In collaboration with the New York State Energy Research and Development Authority (NYSERDA) and the New York State Department of Transportation (NYSDOT), the Lighting Research Center (LRC) at Rensselaer Polytechnic Institute conducted three "Sustainable Roadway Lighting" seminars across New York State for NYSDOT engineers, local municipalities, electric utilities, and lighting specifiers. Instructors John Bullough and Leora Radetsky, LRC scientists, shared the basics of roadway lighting, techniques for evaluating different lighting technologies, new ways to quantify the efficiency and effectiveness of roadway lighting, and upcoming concepts that may transform how roadway lighting is practiced.
---
About the Lighting Research Center
The Lighting Research Center (LRC) at Rensselaer Polytechnic Institute is the world's leading center for lighting research and education. Established in 1988 by the New York State Energy Research and Development Authority (NYSERDA), the LRC conducts research in solid-state lighting, light and health, transportation lighting and safety, energy efficiency, and plant pathology. LRC lighting scientists with multidisciplinary expertise in research, technology, design, and human factors, collaborate with a global network of leading manufacturers and government agencies, developing innovative lighting solutions for projects that range from the Boeing 787 Dreamliner to U.S. Navy submarines to hospital neonatal intensive-care units. In 1990, the LRC became the first university research center to offer graduate degrees in lighting and today, offers a M.S. in lighting and a Ph.D. to educate future leaders in lighting. With 35 full-time faculty and staff, 15 graduate students, and a 30,000 sq. ft. laboratory space, the LRC is the largest university-based lighting research and education organization in the world.
About Rensselaer Polytechnic Institute
Rensselaer Polytechnic Institute, founded in 1824, is America's first technological research university. The university offers bachelor's, master's, and doctoral degrees in engineering; the sciences; information technology and web sciences; architecture; management; and the arts, humanities, and social sciences. Rensselaer faculty advance research in a wide range of fields, with an emphasis on biotechnology, nanotechnology, computational science and engineering, data science, and the media arts and technology. The Institute has an established record of success in the transfer of technology from the laboratory to the marketplace, fulfilling its founding mission of applying science "to the common purposes of life."