News from the Lighting Research Center
Rensselaer Polytechnic Institute



Contact:
Rebekah Mullaney
Lighting Research Center
518.687.7100
mullar2@rpi.edu
Troy, N.Y. - 6/18/2014



LRC Issues New DELTA Report: LED Lighting in a Campus Building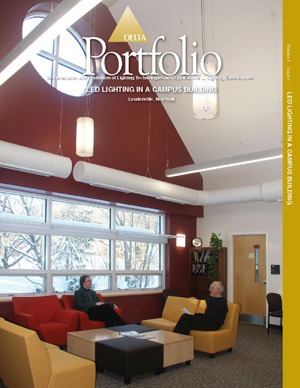 The Lighting Research Center (LRC) at Rensselaer Polytechnic Institute recently evaluated a newly constructed building at Siena College—
Rosetti Hall
, a 25,000 square foot, 3-story, contemporary brick building that includes classrooms, meeting rooms, and offices. The New York State Energy Research and Development Authority (NYSERDA) awarded funding to change the lighting specification from the originally specified conventional fluorescent lighting to all light-emitting diodes (LEDs), designed by Engineered Solutions of Clifton Park, N.Y., and to have the project evaluated as a DELTA demonstration project by LRC. The 20-page full color, illustrated report, "
LED Lighting in a Campus Building
," detailing the project evaluation and findings, is available for free download from the LRC website.
Jennifer Brons, LRC research scientist and DELTA program manager, evaluated the performance of the LED systems in Rosetti Hall, including luminaires, dimmers, and occupancy sensors; measured illuminances in a typical classroom, office, meeting room, common area lounge, hallway, stairs, and restroom; and administered questionnaires to 200 faculty, staff, and students onsite.
Key findings of the DELTA report:
The LED system saves considerable energy (33%) compared to the fluorescent system originally specified.
Overall, most occupants believe their lighting is about the same as or better than similar campus spaces.
The LED lighting is indistinguishable from conventional fluorescent lighting due to shielding with opal diffusers and a neutral (4000 K) color temperature.
The LRC evaluation highlights some guidelines and recommendations to operate the LED systems in Rosetti Hall most effectively.
Integral occupancy sensors
Time delay in offices and meeting rooms should be lengthened to reduce complaints of false-off.
When luminaires with integral PIR sensors are used in restrooms, the luminaire closest to the door should be oriented so that it "sees" movement as soon as the occupant enters the space.
The auto-on feature is helpful in public spaces without a wall switch, such as restrooms and staircases, but may lead to occupant confusion and energy waste in public spaces that also have switches, such as meeting rooms and utility rooms.
Dimmers and switches
While questionnaire results showed that instructors preferred downlighting, energy monitoring showed that both uplight and downlight modes were used in the classrooms.
Dimmers for LEDs should be specified that can accommodate the size of the load; one type of dimmer at this site did not dim very low in spaces with small loads. A mockup can confirm satisfactory operation of LEDs with proposed dimmers.
Controls for multiple layers of light should be clustered and labeled, or use an integrated scene controller.
Switches and dimmer controls may be confusing and ineffective in public spaces such as hallways and lounges; controls that provide scheduled turn-on or sweep-off may be more useful in these spaces.
Since 1994, the DELTA program, which stands for Demonstration and Evaluation of Lighting Technologies and Applications, has produced more than 42 case studies at sites ranging from schools to office buildings to senior housing, along with numerous outdoor locations. The reports are written for lighting specifiers, building managers, architects, and others who design and install lighting, and are available free to the public on the LRC website.
---
About the Lighting Research Center
The Lighting Research Center (LRC) at Rensselaer Polytechnic Institute is the world's leading center for lighting research and education. Established in 1988 by the New York State Energy Research and Development Authority (NYSERDA), the LRC conducts research in solid-state lighting, light and health, transportation lighting and safety, energy efficiency, and plant pathology. LRC lighting scientists with multidisciplinary expertise in research, technology, design, and human factors, collaborate with a global network of leading manufacturers and government agencies, developing innovative lighting solutions for projects that range from the Boeing 787 Dreamliner to U.S. Navy submarines to hospital neonatal intensive-care units. In 1990, the LRC became the first university research center to offer graduate degrees in lighting and today, offers a M.S. in lighting and a Ph.D. to educate future leaders in lighting. With 35 full-time faculty and staff, 15 graduate students, and a 30,000 sq. ft. laboratory space, the LRC is the largest university-based lighting research and education organization in the world.
About Rensselaer Polytechnic Institute
Rensselaer Polytechnic Institute, founded in 1824, is America's first technological research university. The university offers bachelor's, master's, and doctoral degrees in engineering; the sciences; information technology and web sciences; architecture; management; and the arts, humanities, and social sciences. Rensselaer faculty advance research in a wide range of fields, with an emphasis on biotechnology, nanotechnology, computational science and engineering, data science, and the media arts and technology. The Institute has an established record of success in the transfer of technology from the laboratory to the marketplace, fulfilling its founding mission of applying science "to the common purposes of life."