News from the Lighting Research Center
Rensselaer Polytechnic Institute



Contact:
Rebekah Mullaney
Lighting Research Center
518.687.7100
mullar2@rpi.edu
Troy, N.Y. - 1/23/2014



LRC Announces New Light and Health Institute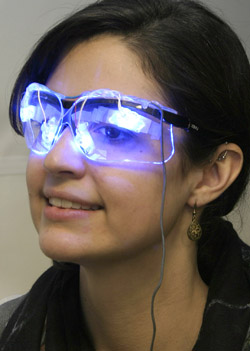 The Lighting Research Center (LRC) at Rensselaer Polytechnic Institute will hold a two-day, hands-on seminar May 6-7, 2014, to teach the many ways in which light affects, and can be used to improve, health and wellbeing. Light of the appropriate quantity, spectrum, timing, duration, and distribution can have a profound effect on sleep, alertness, and performance, along with overall wellbeing, and can be used to improve conditions such as jet lag, Alzheimer's disease, insomnia, and depression.
The goal of this seminar is to provide attendees with the latest research as it can be applied, and the knowledge necessary to improve our modern living environments with efficient, dynamic lighting. This seminar will be of critical interest to those within the field of healthcare, lighting industry professionals, researchers in the biological sciences, facility managers, architects, and others.
For more information, visit the Light and Health Institute web page or contact Rebekah Mullaney at mullar2@rpi.edu
---
About the Lighting Research Center
The Lighting Research Center (LRC) at Rensselaer Polytechnic Institute is the world's leading center for lighting research and education. Established in 1988 by the New York State Energy Research and Development Authority (NYSERDA), the LRC conducts research in solid-state lighting, light and health, transportation lighting and safety, energy efficiency, and plant pathology. LRC lighting scientists with multidisciplinary expertise in research, technology, design, and human factors, collaborate with a global network of leading manufacturers and government agencies, developing innovative lighting solutions for projects that range from the Boeing 787 Dreamliner to U.S. Navy submarines to hospital neonatal intensive-care units. In 1990, the LRC became the first university research center to offer graduate degrees in lighting and today, offers a M.S. in lighting and a Ph.D. to educate future leaders in lighting. With 35 full-time faculty and staff, 15 graduate students, and a 30,000 sq. ft. laboratory space, the LRC is the largest university-based lighting research and education organization in the world.
About Rensselaer Polytechnic Institute
Rensselaer Polytechnic Institute, founded in 1824, is America's first technological research university. The university offers bachelor's, master's, and doctoral degrees in engineering; the sciences; information technology and web sciences; architecture; management; and the arts, humanities, and social sciences. Rensselaer faculty advance research in a wide range of fields, with an emphasis on biotechnology, nanotechnology, computational science and engineering, data science, and the media arts and technology. The Institute has an established record of success in the transfer of technology from the laboratory to the marketplace, fulfilling its founding mission of applying science "to the common purposes of life."