On March 20, more than 175 guests from around the world came to Troy, N.Y. to celebrate the 25th anniversary of the Lighting Research Center (LRC) at Rensselaer. The event included a forum, tours of the LRC, and dinner at Franklin Plaza. The topic for the keynote and panel discussion was the value of lighting and the notion that society undervalues light, largely because we do not properly measure its benefits. LRC Director Mark Rea spoke about how the benefits of lighting go well beyond lumens per watt and proposed some new metrics to measure the value of light. Rea has served as Director since the LRC was established in 1988.
One oft-overlooked benefit of lighting, heavily discussed throughout the event, is its profound effect on human health, such as on sleep, alertness, and productivity. For example, the LRC's research on tail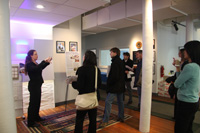 ored light exposures as a non-pharmacological intervention has had especially promising results for individuals with Alzheimer's disease, improving quality of sleep at night and alertness during the day. Human factors are of paramount importance when designing the built environment, and this has led to innovative LRC designs with benefits that range from increasing workplace productivity to preventing falls.
The challenge of correctly measuring and communicating the value of lighting was discussed by a five-member panel, chaired by Russ Leslie, LRC cofounder and associate director—including keynote speaker Rory Sutherland, Ogilvy; Peter Bennich, Swedish Energy Agency; Steve Briggs, GE Lighting; Randy Burkett, Randy Burkett Lighting Design; and Andrew Vesey, AES.
David Haviland '64, former Vice President for Institute Advancement, and Evan Douglis, Dean of Architecture, spoke at the dinner reception at Franklin Plaza. Rea announced the launch of the Glenn W. Bailey Industry Mentor program and its first mentor, Fred Heller '47, Chairman Emeritus and former CEO of Genlyte, followed by a speech by Heller. Later, Rea presented the 25 Year Award to the New York State Energy Research and Development Authority (NYSERDA), accepted by NYSERDA President and CEO Francis J. Murray, Jr., for 25 years of national leadership in lighting research that has transformed lighting, and for 25 years of support.