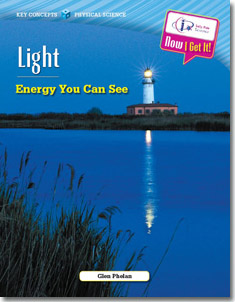 A new book designed to interest young people in science features Rensselaer Polytechnic Institute Associate Professor Mariana Figueiro. Light: Energy You Can See includes a section detailing Figueiro's research on how light impacts our body's daily rhythms. This book is part of a series published by Sally Ride Science that aims to engage 4th through 8th grade students in the big ideas in life, earth, and physical sciences and to connect science concepts to the work and lives of real scientists.
Figueiro is director of the Light and Health Program at the Rensselaer Lighting Research Center (LRC), where she investigates how light can be used as a non-pharmacological treatment to positively impact human health and well-being. In the book, Figueiro describes her research at a grade-school level and explains how it applies to everyday life. She also explains how her childhood desire to build castles out of blocks and dreams of being a doctor led to her current focus: developing treatments and devices to improve our modern living environments.
Patterns of light and dark are the main cues for synchronizing our internal biological clock with the 24-hour solar day. This internal clock is responsible for regulating the timing of our sleep and other daily biological cycles, called circadian rhythms. Growing evidence indicates that exposure to irregular patterns of light and darkness can cause the human circadian system to fall out of synchrony with the 24-hour solar day, negatively affecting human health. However, much research needs to be done in order to effectively understand the relationship between circadian disruptions and human maladies. Figueiro strives to better understand how the retina, the back part of the eye, converts light signals into neural signals for the circadian system.
"Dr. Figueiro's research efforts have contributed to the development of important tools and insightful analyses to systematically and quantitatively characterize circadian light and circadian disruption in humans," said LRC Director and Rensselaer Professor Mark Rea. "We were very pleased to learn that young students will be introduced to Dr. Figueiro's research and have the opportunity to develop an understanding of the multifaceted role that light plays in our lives.
Through laboratory research and field studies, Figueiro has demonstrated how light treatment can be used to improve sleep in Alzheimer's disease patients, increase alertness and performance in submariners, reduce circadian disruption in shift workers, and help adolescents fall asleep earlier for improved alertness and performance in school.
"I was honored when Sally Ride Science approached me to contribute to this new book designed to make students aware of science in their daily lives," said Figueiro. "I appreciate the need for filling the educational pipeline with young people who are prepared and motivated to study science and engineering. Perhaps some of them may even consider lighting as a field of study."
According to Sally Ride Science, Light: Energy You Can See is part of a 36-book series called Key Concepts in Science. The books are paired with hands-on investigations (Sally Ride Science/PASCO SPARKlabs) that together enable students to explore the "big ideas" in science.
About Sally Ride Science
Sally Ride Science™ is an innovative science education company dedicated to supporting student interest in science, math, and technology. Dr. Sally Ride, America's first woman in space, founded the company with a mission to educate, engage, and inspire all students. Since 2001, thousands of educators across the nation have used the standards-based classroom materials, professional development, and classroom programs that bring science to life.