News from the Lighting Research Center
Rensselaer Polytechnic Institute



Contact:
Rebekah Mullaney
Lighting Research Center
518.687.7100
mullar2@rpi.edu
Troy, N.Y. - 8/6/2010



Public Has Yet to Fully Embrace New Headlamp Technologies



Researchers gauge public opinion to help steer research efforts


In the past few years, automobile headlamps have gone through a great deal of transformations in the marketplace, from the advent of high-intensity discharge (HID) headlamps to the passing of legislation, such as the "wipers on, lights on" laws that are now common in many states. Despite these innovations, it is unclear whether the public sees this evolution in automobile headlamps as positive.
The latest report from the Transportation Lighting Alliance (TLA) at Rensselaer Polytechnic Institute's Lighting Research Center (LRC) evaluates newspaper stories about automobile headlamps in order to gauge public opinions and understanding about these systems. The information will be used to outline the main areas of concern in terms of headlamp safety and pinpoint areas for future study.
According to Senior Research Scientist John Bullough, Ph.D.,
LRC
researchers examined newspaper articles published from 2004-2009, to locate and analyze topics related to automobile headlamp visibility and glare.
Results of this study indicated that:
The public is concerned about reduced visibility and increased discomfort from the "bluish" color of high-intensity discharge (HID) headlamps. According to recent LRC research conducted for the National Highway Traffic Safety Administration, despite the public's complaints, there is no evidence that the color of the headlamps reduces visibility any more than, for example, yellow-hued filament-based lamps. The bluer color does produce more discomfort, however, for the same intensity toward oncoming drivers' eyes.


Concerns from the public about headlamp height may have some credence, however. The height difference between trucks/sport utility vehicles and traditional sedans causes intense light to shine directly into the shorter vehicle's rearview and side mirrors, creating glary conditions.


The public is concerned about the best lighting when driving in poor weather. While most people are overwhelmingly in favor of recent legislation requiring headlamps to be on during low-visibility weather, there was much confusion over what type of light was required or preferred, such as low-beam headlights, daytime running lights (DRLs), or fog lights and whether HIDs created more glare during inclement weather. In addition, the public lauded the modulating DRL technology for motorcycles, which alternates between high and low beam six times a second, and there were many suggestions that this be required on all motorcycles.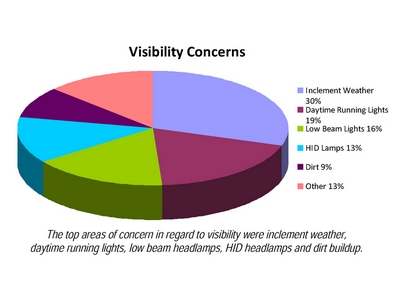 Overall, the top areas of concern in regards to headlamp glare were color, intensity, height, aim, and age of the headlamps, while the main areas of concern in regards to visibility were inclement weather, daytime running lights, HID headlamps, low-beam headlamps, and dirt buildup, according to the report.
"TLA will use the information generated by this report in future research to address the concerns and visual requirements of the driving public," said Bullough.
This research was supported by the TLA, which is currently comprised of Rensselaer's Lighting Research Center, Automotive Lighting, OSRAM SYLVANIA, Philips, and Visteon. The TLA
performs cooperative research and education on the roadway visibility system. The TLA's primary focus is on vehicle forward lighting and visibility. By developing a research framework in this area the TLA is identifying and performing strategic studies to fill in gaps in the industry's collective understanding and developing technology independent means for evaluating lighting solutions.
Learn more about TLA at
www.lrc.rpi.edu/programs/transportation/tla/index.asp
.
---
About the Lighting Research Center
The Lighting Research Center (LRC) at Rensselaer Polytechnic Institute is the world's leading center for lighting research and education. Established in 1988 by the New York State Energy Research and Development Authority (NYSERDA), the LRC conducts research in solid-state lighting, light and health, transportation lighting and safety, energy efficiency, and plant pathology. LRC lighting scientists with multidisciplinary expertise in research, technology, design, and human factors, collaborate with a global network of leading manufacturers and government agencies, developing innovative lighting solutions for projects that range from the Boeing 787 Dreamliner to U.S. Navy submarines to hospital neonatal intensive-care units. In 1990, the LRC became the first university research center to offer graduate degrees in lighting and today, offers a M.S. in lighting and a Ph.D. to educate future leaders in lighting. With 35 full-time faculty and staff, 15 graduate students, and a 30,000 sq. ft. laboratory space, the LRC is the largest university-based lighting research and education organization in the world.
About Rensselaer Polytechnic Institute
Rensselaer Polytechnic Institute, founded in 1824, is America's first technological research university. The university offers bachelor's, master's, and doctoral degrees in engineering; the sciences; information technology and web sciences; architecture; management; and the arts, humanities, and social sciences. Rensselaer faculty advance research in a wide range of fields, with an emphasis on biotechnology, nanotechnology, computational science and engineering, data science, and the media arts and technology. The Institute has an established record of success in the transfer of technology from the laboratory to the marketplace, fulfilling its founding mission of applying science "to the common purposes of life."