News from the Lighting Research Center
Rensselaer Polytechnic Institute



Contact:
Lighting Research Center
518-276-7100
lrc@rpi.edu
Troy, N.Y. - 4/12/2010



LED Street Lighting Field Test Results Published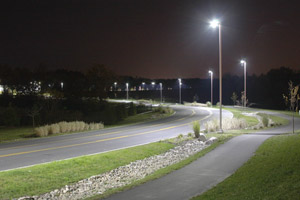 Light-emitting diode (LED) technology continues to rapidly mature and is pursued as a street lighting alternative to traditional lamp sources categorized as high intensity discharge (HID) lamps, such as high pressure sodium luminaires. In order to quantify the performance of new LED street lighting options, lighting specifiers must compare the claimed benefits of LED fixtures, including long life, reduced maintenance, and energy savings, to existing HID sources.
The Lighting Research Center (LRC) at Rensselaer Polytechnic Institute recently released a new publication detailing field test evaluation results of an LED street lighting installation in a suburban business park in upstate New York. "Through real-world environment case studies, LRC's DELTA program provides objective information regarding the performance and acceptance of products," said
Jennifer Brons, LRC research scientist and DELTA Program manager.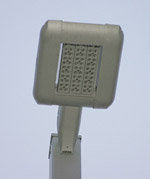 In this recent case study, DELTA evaluated 16 Edge™ LED luminaires, manufactured and donated by BetaLED, lining a curved, three-lane street built to service a new office building in North Greenbush, New York.
The mission was to examine and measure system performance, photometric performance, energy savings, light pollution and whether volunteers visiting the site accepted the LED street lighting system. The results are detailed in Field Test DELTA Snapshots: LED Street Lighting.
The Edge luminaires use a system of LED bars, each bar housing 20 high-output white LEDs. Based on the desired light output, lighting specifiers select the number of bars per luminaire. In this installation, the Edge luminaires have three LED light bars each and are mounted on poles 30 feet high and spaced 130 to 180 feet apart. DELTA compared the installation to a neighboring high pressure sodium (HPS) street lighting system in the same business park.
Study findings
Most visitors considered the lighting to be, overall, the same as or better than other roadways at night.
Relative to the neighboring HPS installation, the LED installation uses less power while providing better uniformity.
DELTA also recently field tested photovoltaic-powered LED luminaires installed at three public, outdoor sites in the Catskill Mountains region of upstate New York.
The luminaires were prototypes designed by Sullivan Renaissance, Philips Hadco and SolarOne® Solutions. For complete details, a PDF version of the publication, Field Test DELTA: Post-Top Photovoltaic (PV) Pathway Luminaire, is available online at www.lrc.rpi.edu/programs/DELTA/pdf/DELTA-Post-topPhotovoltaic.pdf.
DELTA Program
The DELTA program, sponsored by
New York State Energy Research and Development Authority (NYSERDA), was created to "Demonstrate and Evaluate Lighting Technologies and Applications." The program generates a series of case studies in which lighting technology is evaluated in real-world environments including commercial, residential, retail, institutional, industrial, and outdoor applications. Some of the DELTA studies evaluate technology that is already in the marketplace, while others, called DELTA Field Tests, evaluate lighting technology prototypes and independently verify claims and suggest improvements, when applicable. All DELTA publications are available at www.lrc.rpi.edu/programs/DELTA/publications/.
---
About the Lighting Research Center
The Lighting Research Center (LRC) at Rensselaer Polytechnic Institute is the world's leading center for lighting research and education. Established in 1988 by the New York State Energy Research and Development Authority (NYSERDA), the LRC conducts research in light and human health, transportation lighting and safety, solid-state lighting, energy efficiency, and plant health. LRC lighting scientists with multidisciplinary expertise in research, technology, design, and human factors, collaborate with a global network of leading manufacturers and government agencies, developing innovative lighting solutions for projects that range from the Boeing 787 Dreamliner to U.S. Navy submarines to hospital neonatal intensive-care units. In 1990, the LRC became the first university research center to offer graduate degrees in lighting and today, offers a M.S. in lighting and a Ph.D. to educate future leaders in lighting. Learn more at www.lrc.rpi.edu.
About Rensselaer Polytechnic Institute
Founded in 1824, Rensselaer Polytechnic Institute is America's first technological research university. Rensselaer encompasses five schools, 32 research centers, more than 145 academic programs, and a dynamic community made up of more than 7,900 students and more than 100,000 living alumni. Rensselaer faculty and alumni include more than 145 National Academy members, six members of the National Inventors Hall of Fame, six National Medal of Technology winners, five National Medal of Science winners, and a Nobel Prize winner in Physics. With nearly 200 years of experience advancing scientific and technological knowledge, Rensselaer remains focused on addressing global challenges with a spirit of ingenuity and collaboration.