News from the Lighting Research Center
Rensselaer Polytechnic Institute



Contact:
Rebekah Mullaney
Lighting Research Center
518.687.7100
mullar2@rpi.edu
Troy, N.Y. - 12/17/2008



Lighting Research Centerís LED Lighting Institute Goes "On the Road"



Hands-on session highlighting LED system design will be held March 17-18, 2009, in Durham, North Carolina


In response to requests from lighting professionals across the United States, Rensselaer Polytechnic Institute's Lighting Research Center (LRC) has enhanced its outreach education by taking the LED Lighting Institute "on the road." In addition to the traditional three-day seminar held each spring and fall at the LRC, a two-day LED Lighting Institute program option has been added, which will be hosted at a program sponsor site each year.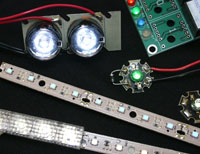 The first two-day, on-the-road LED Lighting Institute will be held March 17-18, 2009, at Cree Corporate Headquarters in Durham, North Carolina. In addition to the traditional three-day seminar held each spring and fall at the LRC, a two-day LED Lighting Institute program option has been added, which will be hosted at a program sponsor site each year.

Through hands-on workshops and classroom sessions, participants learn the basics of LED technology while building an understanding of LED system integration issues involving the electrical, optical, and thermal characteristics of LEDs. Participants also learn how to measure and evaluate LEDs and LED systems, and have the opportunity to compare LED technologies from a variety of manufacturers. The program culminates with the participants designing, building, and evaluating their own LED fixtures.

The program is designed to have participants choose and evaluate all necessary LED system components including heat sinks, LEDs, and drivers from a variety of manufacturers. Then participants will have the opportunity to compare the systems side-by-side, examining the thermal, photometric, and color properties for each system, according to Dan Frering, LRC manager of education.

"The workshop offers objective information on current LED technology so participants walk away with realistic expectations for using LEDs in place of traditional light sources," said N. Narendran, Ph.D., director of research and head of the Solid-State Lighting Program at the LRC. "In addition, the participants are taught methods for measuring and quantifying LED performance."

This intensive workshop continues to grow in popularity, according to Frering, so he suggests early registration. Those who sign up by February 2, 2009, will receive a discount on the registration fee.

Upon completion of the LED Lighting Institute, participants will earn three continuing education units and will receive a Continuing Education Certificate in LED lighting technology. For more information or to register for the two-day March session, visit the LED Lighting Institute Web site at www.lrc.rpi.edu/education/outreachEducation/LEDInstitute.asp.

LED Lighting Institute Sponsors
The LED Lighting Institute has gained notable support from sponsors who see the benefit of LED lighting education. The main sponsor is the Alliance for Solid-State Illumination Systems and Technologies (ASSIST), a collaboration of researchers, manufacturers, and government organizations designed to identify and reduce major technical hurdles and help LED technology gain widespread use in lighting applications. ASSIST sponsors include Bridgelux; China Solid State Lighting Alliance; Cree, Inc.; Everlight Electronics Co., Ltd.; Federal Aviation Administration (FAA); GE Lumination; Industrial Technology Research Institute (ITRI); Lighting Science Group; Lite-On; NeoPac Lighting; New York State Energy Research and Development Authority (NYSERDA); OSRAM SYLVANIA/OSRAM Opto Semiconductors; Permlight; Philips Color Kinetics; Photonics Cluster (UK)/The Lighting Association; Seoul Semiconductor Co., Ltd.; U.S. Environmental Protection Agency; USG; and WAC Lighting.
---
About the Lighting Research Center
The Lighting Research Center (LRC) at Rensselaer Polytechnic Institute is the world's leading center for lighting research and education. Established in 1988 by the New York State Energy Research and Development Authority (NYSERDA), the LRC conducts research in solid-state lighting, light and health, transportation lighting and safety, energy efficiency, and plant pathology. LRC lighting scientists with multidisciplinary expertise in research, technology, design, and human factors, collaborate with a global network of leading manufacturers and government agencies, developing innovative lighting solutions for projects that range from the Boeing 787 Dreamliner to U.S. Navy submarines to hospital neonatal intensive-care units. In 1990, the LRC became the first university research center to offer graduate degrees in lighting and today, offers a M.S. in lighting and a Ph.D. to educate future leaders in lighting. With 35 full-time faculty and staff, 15 graduate students, and a 30,000 sq. ft. laboratory space, the LRC is the largest university-based lighting research and education organization in the world.
About Rensselaer Polytechnic Institute
Rensselaer Polytechnic Institute, founded in 1824, is America's first technological research university. The university offers bachelor's, master's, and doctoral degrees in engineering; the sciences; information technology and web sciences; architecture; management; and the arts, humanities, and social sciences. Rensselaer faculty advance research in a wide range of fields, with an emphasis on biotechnology, nanotechnology, computational science and engineering, data science, and the media arts and technology. The Institute has an established record of success in the transfer of technology from the laboratory to the marketplace, fulfilling its founding mission of applying science "to the common purposes of life."