News from the Lighting Research Center
Rensselaer Polytechnic Institute



Contact:
Rebekah Mullaney
Lighting Research Center
(518) 276-7118
mullar2@rpi.edu
Troy, N.Y. - 2/26/2007



LRC Researcher Awarded Funding to Explore Effect of Light on Human Phototransduction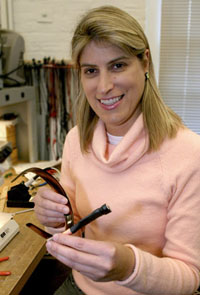 Mariana Figueiro with the Daysimeter, a prototype tool designed at the LRC for light and health research.

Mariana Figueiro, an assistant professor at the Lighting Research Center, has received the James D. Watson Investigator award, which includes a $200,000 grant, from the New York State Office of Science, Technology, and Academic Research (NYSTAR). With this funding, Dr. Figueiro, the director of the LRC's Light and Health program, is exploring the effects of light on human physiological rhythms.

"Our research will examine the effects different wavelengths of light have on a novel class of photoreceptors, as well as the associated retinal mechanisms associated with human phototransduction and their respective role in regulating physiological rhythms," explained Dr. Figueiro. "I am very pleased to receive this award, and I am grateful to NYSTAR for supporting our efforts," she added.

The director of the LRC, Mark Rea, said the research being funded by the grant could make a real difference in lighting practice. "Dr. Figueiro's work could redefine the way lighting is manufactured and installed in our work and home environments," said Rea.

Michael J. Relyea, executive director of NYSTAR, said the Watson awards are designed to recognize and support outstanding scientists and engineers who show potential for leadership and scientific discovery early in their careers in the field of biotechnology. "The world-class research being performed by some of the best young minds at New York's colleges and universities is supported by these grants and complements our other high-tech economic development initiatives," said Relyea.

In announcing this year's awards, which totaled $1.4 million, Relyea explained that the James D. Watson Investigator initiative is part of the $225 million Generating Employment through New York State Science (Gen*NY*sis) program. NYSTAR's programs are designed to spur technology-based research and economic development in New York State; promote national and international research collaboration and innovation; better leverage the State's research expertise and funding for investments from the federal government, foundations, businesses, and others; and to acquire venture capital funding.
---
About the Lighting Research Center
The Lighting Research Center (LRC) at Rensselaer Polytechnic Institute is the world's leading center for lighting research and education. Established in 1988 by the New York State Energy Research and Development Authority (NYSERDA), the LRC conducts research in light and human health, transportation lighting and safety, solid-state lighting, energy efficiency, and plant health. LRC lighting scientists with multidisciplinary expertise in research, technology, design, and human factors, collaborate with a global network of leading manufacturers and government agencies, developing innovative lighting solutions for projects that range from the Boeing 787 Dreamliner to U.S. Navy submarines to hospital neonatal intensive-care units. In 1990, the LRC became the first university research center to offer graduate degrees in lighting and today, offers a M.S. in lighting and a Ph.D. to educate future leaders in lighting. Learn more at www.lrc.rpi.edu.
About Rensselaer Polytechnic Institute
Founded in 1824, Rensselaer Polytechnic Institute is America's first technological research university. Rensselaer encompasses five schools, 32 research centers, more than 145 academic programs, and a dynamic community made up of more than 7,900 students and more than 100,000 living alumni. Rensselaer faculty and alumni include more than 145 National Academy members, six members of the National Inventors Hall of Fame, six National Medal of Technology winners, five National Medal of Science winners, and a Nobel Prize winner in Physics. With nearly 200 years of experience advancing scientific and technological knowledge, Rensselaer remains focused on addressing global challenges with a spirit of ingenuity and collaboration.