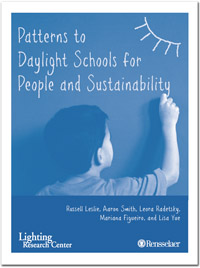 The body's internal clock is responsible for regulating the timing of our sleep and other daily biological cycles, called circadian rhythms. During school months, however, teenagers miss out on essential morning light needed to stimulate the 24-hour biological clock. For this reason, professors at the LRC have developed a daylighting design guide that balances the photobiological benefits of daylighting with well-known daylight design techniques that can be applied in schools.

"When done properly, these dynamic interiors support human health and activities while also reducing energy demand," said Russ Leslie, LRC associate director, professor, and lead author of the newly published book, Patterns to Daylight Schools for People and Sustainability.

The book is the culmination of a research project that began in 2008, sponsored by the U.S. Green Building Council (USGBC) and, in part, by a grant from a Trans-National Institutes of Health Genes, Environment and Health Initiative (NIH-GEI), to scientifically quantify the impact of daylight design on students' well-being and performance in K-12 schools and investigate the underlying biological mechanisms associated with this possible link.

"When light enters the human eye, the visual system responds differently to it than does the circadian system, which is much more sensitive to short-wavelength (blue) light and needs more light to be activated than the visual system," said Mariana Figueiro, Ph.D., LRC program director, associate professor, and principal investigator. "Today's rigid school schedules requiring teenagers to be in class early in the morning causes them to miss the essential morning light needed to stimulate the circadian system, which regulates body temperature, alertness, appetite, hormones and sleep patterns."

Most schools typically do not provide adequate electric light or daylight to fully stimulate the circadian system, according to Figueiro. However, if designers provide sufficient daylight, which contains ample short-wavelength light, in classrooms, school buildings will be able to provide more circadian stimulation and, therefore, promote improved health, performance and well-being.

Leslie recommends architects use the new book to identify potential approaches, or "patterns," to daylight schools. Similar to traditional architectural pattern books, this one gives model designs that can be adapted to a particular school project. The book includes a "daylighting dashboard" to quickly compare the patterns graphically with indicators of cost, comfort, the visual environment, and energy use. The publication offers conceptual daylight approaches for the three most common spaces in schools: classrooms, corridors, and gymnasiums.

LRC Senior Research Specialist Aaron Smith, LRC Lead Research Specialist Leora Radetsky, LRC Associate Professor Mariana Figueiro, and LRC graduate student Lisa Yue contributed as co-authors of Patterns to Daylight Schools for People and Sustainability.

The full press release is available at http://www.lrc.rpi.edu/resources/newsroom/pr_story.asp?id=200.




About the Lighting Research Center

The Lighting Research Center (LRC) is part of Rensselaer Polytechnic Institute of Troy, N.Y., and is the leading university-based research center devoted to lighting. The LRC offers the world's premier graduate education in lighting, including one- and two-year master's programs and a Ph.D. program. Since 1988 the LRC has built an international reputation as a reliable source for objective information about lighting technologies, applications, and products. The LRC also provides training programs for government agencies, utilities, contractors, lighting designers, and other lighting professionals. Visit http://www.lrc.rpi.edu.