Efforts reached a milestone in January 2011 with the first South Asia Lighting Transformation Forum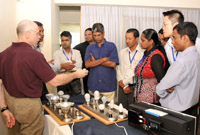 The LRC is steering a major initiative to promote sustainable lighting in South Asia, using light-emitting diode (LED) technology. Efforts reached a milestone min-January when global lighting manufacturers, world finance and development organizations, and leading government representatives met to develop a regional lighting technology roadmap at the first South Asia Lighting Transformation Forum.
The event took place January 17-19 in Male', Maldives. Sponsored by the U. S. Agency for International Development (USAID) South Asia Regional Initiative for Energy (SARI/Energy) program, the forum was designed to create a framework for a five-year, step-by-step guide to transforming the region to sustainable lighting using LEDs.
An event summary, including a list of key presenters, is available at www.lrc.rpi.edu/RCL/SALTF_post-event-summary.pdf. Participants included LRC Partners GE Lighting, OSRAM Sylvania, Inc., Philips Lighting, and U.S. EPA, and LRC program sponsor Cree, Inc.
"The demand for energy keeps growing in South Asia as regional industries expand and the percentage of households connected to the electrical grid increases. Lighting contributes to a significant portion of the electric power demand. Therefore, the overall initiative to promote sustainable lighting with new energy-efficient light sources, such as LED, is critical not only for the region's energy security but also for preserving the environment and improving the economy," said Nadarajah Narendran, Ph.D., LRC director of research, and principal investigator on the project.
With the framework now established, a detailed five-year roadmap for transforming lighting in South Asia is under way. With LRC's support, the Regional Centre for Lighting in South Asia will lead the implementation phase of this roadmap along with regional stakeholders.
A press release with additional event details is available at www.lrc.rpi.edu/resources/newsroom/pr_story.asp?id=196.
A two-page brochure detailing Regional Centre for Lighting initiatives and programs is available at www.lrc.rpi.edu/RCL/RCL_Brochure_Jan2011.pdf.
To learn more about the LRC's international solid-state lighting activities, visit www.lrc.rpi.edu/programs/solidstate/intlActivities.asp.