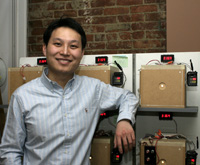 Tianming "Teddy" Dong recently graduated with a doctorate in architectural science with a concentration in lighting from the LRC. This doctorate degree is the highest available in the field of lighting and a first-of-its-kind in the lighting industry, encompassing the many disciplines that make up the field of lighting and bringing them together within the context of scientific inquiry, research, and discovery. Dong is only the second person to have earned this degree.
Dong's graduate research focused on solid-state lighting, specifically understanding the thermal issues of high-power LEDs and developing thermal management strategies for LED light fixtures. His research included heat sink design for LED lighting systems and thermal packaging materials. Dong's doctoral work supervisor is Professor Nadarajah Narendran, LRC's director of research and head of LRC's solid-state lighting program.
LED technology holds great promise for long life and significantly reduced maintenance costs for lighting luminaires, but this potential may not be realized if the heat at the LED junction is not managed well. Lighting luminaires can operate in a variety of thermal environments, including spaces with significant airflow surrounding the luminaires, thermally insulated cavities, and airtight, insulated ceilings. Dong's thesis work focused on understanding the heat transfer mechanisms in a recessed LED downlight in an insulated ceiling.
In recognition of Dong's outstanding academic performance and strong leadership abilities, he received the 2007-2008 ASSIST (Alliance for Solid-State Illumination Systems and Technologies) Scholarship toward is doctorate studies. Prior to enrolling at the LRC, Dong earned a masters degree in physics at Ohio University in Athens, Ohio. He earned his bachelor's degree in lighting in 2004 from Fudan University in Shanghai, China.