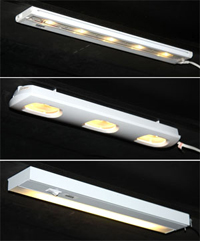 The National Lighting Product Information Program (NLPIP) has released a new Lighting Answers report that discusses the performance of LED residential under-cabinet luminaires. Included in the publication is a comparison of four linear LED under-cabinet luminaires intended for kitchen applications with four traditional luminaires – two fluorescent and two incandescent xenon models. All luminaires were tested to determine the amount of light each provides on the countertop and backsplash areas, the uniformity and color of light, and the efficacy (the ratio of light output to input power) of the luminaires. The report also discusses energy and financial savings and other considerations such as warranties.
"The luminaires were chosen based on availability in consumer-oriented retail stores in the Albany, New York area in the spring of 2009 and were tested based upon the ASSIST recommends testing procedures," said NLPIP Program Director Jeremy Snyder.
Results of the testing show that most models meet recommended levels of illuminance and uniformity. In general, the application efficacy of LED and fluorescent models were similar to one another (and much greater than that of the incandescent models). The estimated cost of ownership of the LED models was similar to that of the fluorescent models, although the latter produced more light. These results are based on models purchased in 2009 and the pattern of the results may change over time as LED technology develops.
"Homeowners may want to consider other factors too when selecting an under-cabinet luminaire," said Snyder, "such as the correlated color temperature (CCT), color rendering index (CRI), and whether they find the multiple discrete shadows produced by some luminaires to be aesthetically displeasing."
The NLPIP report, Lighting Answers: LED Residential Under-Cabinet Luminaires (May 2010) can be found online at: http://www.lrc.rpi.edu/nlpip/publicationDetails.asp?id=926&type=2