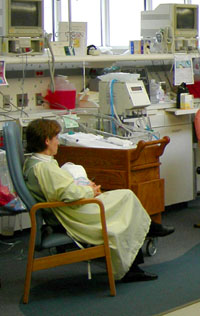 In a neonatal intensive care unit (NICU), lighting systems must respect the unique needs of newborns, health care professionals, and families. NICUs are areas of a hospital specializing in the care of ill or premature newborn infants. While older NICUs were designed so that infants were housed in wards, many modern NICUs are designed as a series of single-family rooms. In these family-style rooms, lighting systems should be quiet, reliable, efficient, and maintenance-free.
Patricia Rizzo, DesignWorks program manager and adjunct assistant professor co-authored an article recently published in the June issue of the journal Newborn and Infant Nursing, "Lighting for Today's Neonatal Intensive Care Unit." The article examines the lighting conditions required for the three disparate groups of people using the NICUs and details a design approach for ensuring a successful lighting scheme.
A proper lighting design can have serious impact on the health of newly born infants. "Infants are often at high risk in their early weeks," said Rizzo. "For instance, newborns may experience damaged retinas due to retinopathy of prematurity (ROP) if a lighting design scheme does not accommodate their sensitive eyes." When ROP levels increased in the 1980s, some suggested that it was due to higher ambient light levels found in the NICUs. Although incidence of ROP has decreased in recent years, the link to ROP and lighting levels indicates that designers take caution in the amount of light (both electric and daylight) reaching the eyes of the newborn.
On the other hand, health care professionals need a high level of light in order to perform specialized medical tasks, such as inserting a catheter into an infant's vein. Furthermore, high levels of light in the daytime and low levels of light at night is necessary for maintaining the biological health of the healthcare professionals, especially for those working night-shift hours.
The third user group, families, has different needs from the other two groups. Families need to sleep during the night and be awake during the day. They also need a warm and welcoming environment to encourage development of the new family unit.
In order to accommodate the needs of all user groups, the lighting should achieve two design goals – create layers of lighting for flexibility, and provide controls that are simple and intuitive to use. "NICU design should have three layers of lighting," said Rizzo. "Ambient lighting should be provided by linear fluorescent luminaires in soffits which bounce light off surfaces. Task lighting should be available near the infant's bed and above work surfaces. Aesthetic lights, such as pendant lights over the reception desk, can make a space feel cheerful and welcoming."
This article can be found online at: http://www.nainr.com/article/S1527-3369%2810%2900032-2/abstract.