Partners News
Save the date: Partners Day Event, October 5-6, 2010
Partners Day 2010 is scheduled for October 5-6, and will be held at the Lighting Research Center in Troy, N.Y.
Partners Day is an annual event that brings all Partners together for an update on the most important research results and projects of the previous year, and gives Partners an opportunity to meet and share ideas. Full story. . .
In Other News: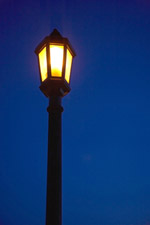 New ASSIST Technical Paper Evaluates the Impact of Outdoor Lighting on the Human Circadian System
The Alliance for Solid-State Illumination and Technologies (ASSIST) recently published a technical paper that quantitatively evaluates the impact that outdoor lighting has on the human circadian system. A growing interest in the role that light plays on human health, combined with the increasing use of white outdoor lighting with high correlated color temperatures and a short-wavelength spectral component, has prompted some advocacy groups to raise alarms about the potential impact of outdoor lighting on human health. This technical paper shows that this concern may be unfounded under realistic scenarios; the impact of streetlights and other outdoor lights may have only a small, if any, impact on human biological cycles. Full story...

Save the Date! LRC Hosts LED Lighting Institute September 21-23, 2010
The LRC will once again hold a three-day, hands-on seminar September 21-23, 2010, to teach industry professionals how to incorporate light-emitting diodes (LEDs) into lighting applications. The LED Lighting Institute will include updated technical content based on the latest industry developments. Full story...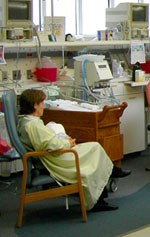 Lighting Recommendations Published for Today's NICU
Patricia Rizzo, DesignWorks program manager and adjunct assistant professor announced an article recently published in the June version of the journal Newborn and Infant Nursing, "Lighting for Today's Neonatal Intensive Care Unit." The article examines the lighting conditions required for the three disparate groups of people using the NICUs and details a design approach for ensuring a successful lighting scheme. Full story...
ASSIST Recommendation Provides New Metrics for Specifying Color Properties in Retail Lighting
Lighting plays an important role in supporting retail operations, from attracting customers, to influencing product appearance, to corporate branding. A recent survey of lighting designers and specifiers by the National Lighting Product Information Program showed that for retail applications, light source color properties are considered more important than any other light source criterion, including energy efficiency. Full story...


LRC Develops LED Scheme for AeroFarms' Plant Environment
Through a variety of services, the LRC's Lighting Technology Greenhouse program helps foster the commercialization of sustainable lighting technologies. Examples include: Aero Farm Systems LLC Full story...
LED Residential Under-cabinet Luminaires Report Available Online
The National Lighting Product Information Program (NLPIP) has released a new Lighting Answers report that discusses the performance of LED residential under-cabinet luminaires. Included in the publication is a comparison of four linear LED under-cabinet luminaires intended for kitchen applications with four traditional luminaires – two fluorescent and two incandescent xenon models. All luminaires were tested to determine the amount of light each provides on the countertop and backsplash areas, the uniformity and color of light, and the efficacy (the ratio of light output to input power) of the luminaires. The report also discusses energy and financial savings and other considerations such as warranties. Full story...
DaySwitch Field Test Demonstrates Simple Daylight Harvesting Technology to Save Energy
The LRC has been working on a daylight-switching device called the DaySwitch®, designed for existing lighting fixtures and featuring simple setup and commissioning. The LRC research team collaborated with manufacturing partners and NYSERDA to build DaySwitch prototypes and recently field tested the devices in a wide range of locations across the Rensselaer campus in Troy, N.Y., through a $398,248 project which demonstrates and evaluates lighting technologies and applications (DELTA). Full story...
LED Street Lighting Field Test Results Published
The LRC recently released a new publication detailing field test evaluation results of an LED street lighting installation in a suburban business park in upstate New York. "Through real-world environment case studies, LRC's DELTA program provides objective information regarding the performance and acceptance of products," said Jennifer Brons, LRC research scientist and DELTA program manager. Light-emitting diode (LED) technology continues to rapidly mature and is pursued as a street lighting alternative to traditional lamp sources categorized as high intensity discharge (HID) lamps, such as high pressure sodium luminaires. In order to quantify the performance of new LED street lighting options, lighting specifiers must compare the claimed benefits of LED fixtures, including long life, reduced maintenance, and energy savings, to existing HID sources. Full story...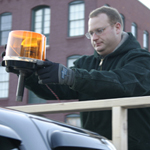 LED Beacon Lights on Maintenance Trucks Are Safe, Economical Alternatives to Traditional Rotating Beacons
The next time you drive past a construction zone on a highway, you may notice that more highway maintenance trucks are using light emitting diode (LED) flashing beacons instead of traditional incandescent rotating beacons. A recent study sponsored by the New York State Department of Transportation (NYSDOT), has shown that LED beacon lights use less power without compromising safety. Full story...
Circadian Light Defined in Journal Paper
In a paper recently published in the Journal of Circadian Rhythms, LRC researchers have defined light as it impacts the human circadian system. Circadian rhythms are biological rhythms that repeat approximately every 24 hours. Exposure to the natural sunrise and sunset synchronizes our circadian rhythms to exactly 24 hours. Circadian disruption by irregular light/dark patterns have been associated with increased risk for breast cancer, diabetes, obesity, heart disease, sleep disorders, and other ailments. Full story...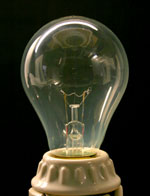 LRC to Identify and Test Energy-efficient Lighting for Canadian Agency
The government agency Natural Resources Canada (NRCan) has contracted with the LRC to help them identify and test GSLs that are commercially available and should meet the minimum energy performance standards based on manufacturers' specifications. The LRC has identified a number of halogen incandescent lamps and is testing the performance of these models in its laboratory. Full story...
Windows LT: Light, Materials, and Dynamic Perception
This spring, LRC graduate students created a lighting installation -- a three dimensional light-art exhibit that accentuates the beauty, emotion, and science of light. Rather than build individual light-art exhibits, this year's class chose to combine ideas to design and build one interactive masterpiece, Windows LT: Light, Materials and Dynamic Perception. Full story...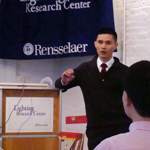 Alumni Help Prepare LRC Students for Job Market
Two LRC alumni recently returned to speak to current students about the structure of the lighting industry and how to navigate the job-searching process. Kelly Seeger, an associate with ICF International and current IES NYC chapter president, and Peping Dee, principal in his own fixture design company called Inform Lightworks, spent a Saturday outlining the lighting industry "food chain" and discussing job opportunities based on interests and industry needs. Full story...
The LRC celebrates growth and success!
There have been many exciting accomplishments happening at the LRC in the past few months. The following is a highlight of some memorable achievements: Yiting Zhu is the first student to graduate with a doctorate in architectural science with a concentration in lighting from the LRC; Mariana Figueiro received the university's James M. Tien '66 Early Career Award for Faculty; and the LRC welcomes four new full-time staff members. Full story...
About the Lighting Research Center

The Lighting Research Center (LRC) is part of Rensselaer Polytechnic Institute of Troy, N.Y., and is the leading university-based research center devoted to lighting. The LRC offers the world's premier graduate education in lighting, including one- and two-year master's programs and a Ph.D. program. Since 1988 the LRC has built an international reputation as a reliable source for objective information about lighting technologies, applications, and products. The LRC also provides training programs for government agencies, utilities, contractors, lighting designers, and other lighting professionals. Visit www.lrc.rpi.edu.