Twelve Countries Participate in Sustainable Lighting Institute in South Asia
The first-ever regional Sustainable Lighting Institute was held in January 2010 in Beruwala, Sri Lanka, to advance sustainable lighting and make it affordable in South Asia to improve the well-being of the citizens and the countries within the region.
The Lighting Research Center (LRC) conducted the intensive five-day program, in conjunction with the Regional Centre for Lighting in South Asia, designed to teach the latest advances and applications in lighting and demonstrate how these techniques and methods can be applied to achieve reliable, clean and efficient lighting throughout South Asia.
The South Asia Regional Centre for Lighting launched in April 2009 through the collaborative efforts of the U.S. Agency for International Development (USAID) and its South Asia Regional Initiative for Energy (SARI/Energy) program, the Sri Lanka Sustainable Energy Authority (SLSEA), and the LRC.
According to event organizers, the course was a success with more than 40 attendees from twelve different countries due to the support and sponsorship of several organizations including Asian Development Bank , Environmental Cooperation-Asia (ECO-Asia), Sri Lanka Energy Managers Association, and PA Consulting Group.
"We were pleased to see representatives from the entire region turn out for the event," said SLSEA Chair Dr. Krishan Deheragoda. "We plan to build on this regional enthusiasm as we arrange future events and workshops, as well as develop collaborative relationships among industry, government and academia to implement regional manufacturing of sustainable lighting products and develop state-of-the-art performance testing facilities."
The LRC is the primary knowledge partner for the Regional Centre for Lighting in South Asia and provides technical knowledge, training, and guidance on activities. "Education in energy-efficient lighting technologies and applications can ensure the energy security of South Asia," said Dr. Narendran, LRC research director and principal investigator for the project.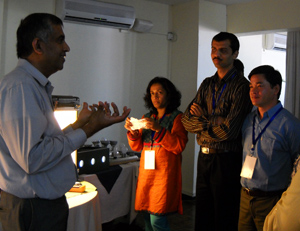 Course experience extended far beyond the classroom
The comprehensive lighting course, taught by Lighting Research Center professors along with Sri Lanka's University of Moratuwa professors, started with a classroom setting where participants learned about cutting-edge applications for both residential and outdoor lighting. They learned the latest in sustainability techniques, LED technology, and daylighting design concepts, as well as how to perform an economic analysis of lighting. Then the session expanded far beyond the classroom as participants were broken up into teams and tasked with developing and presenting detailed lighting design plans for a variety of indoor and outdoor scenarios, including the historic Galle Fort on the south coast of Sri Lanka.
Upon completion of the Sustainable Lighting Institute, participants earned five continuing education units from Rensselaer Polytechnic Institute and received a Continuing Education Certificate from Rensselaer's Lighting Research Center.
For information on future South Asia Regional Centre for Lighting programs and events, visit www.rclsa.net.
About the Regional Centre for Lighting Serving South Asia
The Regional Centre for Lighting's mission is to advance sustainable lighting, making it affordable in South Asia to improve the well-being of citizens and the countries within the region. The Regional Centre for Lighting intends to increase the awareness and affordability of energy-efficient, reliable and clean lighting technologies and their applications to reduce the electricity demanded by lighting; catalyze regional manufacturing of energy-efficient lighting products to improve the economy of the region and to make lighting affordable to many underprivileged citizens; and retrain and educate the necessary workforce in the region to create sustainable lighting in South Asia. For more information, visit www.rclsa.net.