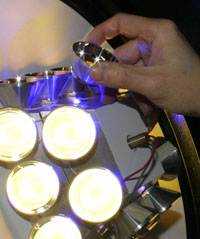 The LRC will once again hold a three-day, hands-on seminar May 4-6, 2010, to teach industry professionals how to incorporate light-emitting diodes (LEDs) into lighting applications. The LED Lighting Institute will include updated technical content based on the latest industry developments.

Through workshops and lab sessions, participants learn the basics of LED technology while building an understanding of LED system integration issues involving the electrical, optical, and thermal characteristics of LEDs. Participants also learn how to measure and evaluate LEDs and LED systems, and have the opportunity to compare LED technologies from a variety of manufacturers.
LRC experts work side-by-side with LED Lighting Institute participants in a small-class setting designed to help them learn more about this quickly evolving lighting technology. The program culminates with the participants designing, building, and evaluating their own LED fixtures.
Upon completion of the LED Lighting Institute, participants will earn three continuing education units and will receive a Continuing Education Certificate in LED lighting technology. Seating is limited, so enroll soon.
Learn more.