Partners News
SAVE THE DATE: Next Partners Day Scheduled for October 5-6, 2010
Partners Day 2010 is scheduled for October 5-6, and will be held at the Lighting Research Center in Troy, N.Y.
Partners Day is an annual event that brings all Partners together for an update on the most important research results and projects of the previous year, and gives Partners an opportunity to meet and share ideas. Full story. . .
In Other News: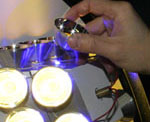 SAVE THE DATE: LED Lighting Institute May 4-6, 2010
The LRC will once again hold a three-day, hands-on seminar May 4-6, 2010, to teach industry professionals how to incorporate light-emitting diodes (LEDs) into lighting applications. The LED Lighting Institute will include updated technical content based on the latest industry developments.Full story...

Lack of Morning Light Keeping Teenagers Up at Night
The first field study on the impact of light on teenagers' sleeping habits finds that insufficient daily morning light exposure contributes to teenagers not getting enough sleep. In the study just published in Neuroendocrinology Letters, Dr. Mariana Figueiro and Dr. Mark Rea found that eleven 8th grade students who wore special glasses to prevent short-wavelength (blue) morning light from reaching their eyes experienced a 30-minute delay in sleep onset by the end of the 5-day study. Full story...
Twelve Countries Participate in Sustainable Lighting Institute in South Asia
The first-ever regional Sustainable Lighting Institute was held in January 2010 in Beruwala, Sri Lanka, to advance sustainable lighting and make it affordable in South Asia to improve the well-being of the citizens and the countries within the region. The Lighting Research Center (LRC) conducted the intensive five-day program, in conjunction with the Regional Centre for Lighting in South Asia, which was launched in April 2009 through the collaborative efforts of the U.S. Agency for International Development (USAID) and its South Asia Regional Initiative for Energy (SARI/Energy) program, the Sri Lanka Sustainable Energy Authority (SLSEA), and the LRC. Full story...
NLPIP releases Lighting Answers: LED Lighting Products for Consumers
The National Lighting Product Information Program (NLPIP) has released Lighting Answers: LED Lighting Products for Consumers. This new report provides information about general illumination LED products currently found on retail shelves, such as power failure lights, task lights, replacement lamps, night lights, and under-cabinet luminaires. Full story...
Photovoltaic LED Outdoor Lighting System Field Test Results Published
In the effort to reduce outdoor lighting energy consumption, many towns are looking towards replacing outdoor light fixtures with light-emitting diodes (LEDs). The LRC recently released a new publication detailing field test results for photovoltaic-powered LED luminaires installed at three public, outdoor sites in upstate New York. Full story...
Welch Allyn Global Headquarters Takes Advantage of Daylighting with Help from LRC DesignWorks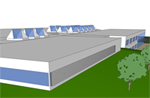 Welch Allyn, a leading global manufacturer of frontline medical products and solutions, decided to improve the image, function, and sustainability of its global headquarters in upstate New York by designing a new expansion that incorporates daylighting. They called on the Lighting Research Center DesignWorks team to review the plans and make recommendations to ensure the daylighting design was effective, comfortable and energy-efficient. Full story...
LRC DesignWorks Provides Lighting Design for Boston Architectural College
As a subcontractor to the Institute for Human Center Design (IHCD), LRC DesignWorks provided the universal lighting design scheme for a 5000 sq ft area to be added to Boston Architectural College (BAC), as well as the design for the front façade. The space had been the former home to the Boston Police Department Division 16, a local landmark, and was transformed into a design center and public event space. Full story...
LRC Presents at International Conference on Effects of Light on Human Well-being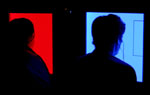 Experiencing LIGHT 2009 was an international two-day scientific conference in Eindhoven, The Netherlands, for those interested in the effects of light and light design on human well-being including mood, emotions, subjective and objective health, comfort, atmosphere perception, productivity and performance. The LRC presented two conference submissions: "New ecological measurement and analysis techniques" that describes the Daysimeter device; and "Evidence that both red and blue lights increase noctural alertness" which demonstrated that more than one mechanism, not just the melatonin pathway, must be involved in alerting the circadian system. Full story...
LRC Examines Safety Margin of Halogen and HID Headlamps
A study examining the stopping distances under different headlamp illumination conditions suggests that HID headlamps have a greater "safety margin," or mean stopping distance, than halogen headlamps. Full story...
Lighting Research Center Announces Besal Lighting Education Fund Award Recipient
Sara Nonaka, a graduate student pursuing her Master's of Science in Lighting at Rensselaer Polytechnic Institute's Lighting Research Center (LRC), was selected to receive one of five national scholarships from the Besal Lighting Education Fund, which aspires to encourage talented and committed students to pursue a career in the lighting industry. Full story...
About the Lighting Research Center

The Lighting Research Center (LRC) is part of Rensselaer Polytechnic Institute of Troy, N.Y., and is the leading university-based research center devoted to lighting. The LRC offers the world's premier graduate education in lighting, including one- and two-year master's programs and a Ph.D. program. Since 1988 the LRC has built an international reputation as a reliable source for objective information about lighting technologies, applications, and products. The LRC also provides training programs for government agencies, utilities, contractors, lighting designers, and other lighting professionals. Visit www.lrc.rpi.edu.