Lighting Research Center and GE Fund, GE Lighting Launch Program to Increase Minority Recruitment
Ceremony honors African-American Inventor Lewis Howard Latimer, who helped Thomas Edison develop light bulb
Lewis Howard Latimer
Troy, New York, May 15, 2001 - Increasing the number of minorities working in the lighting industry is the goal of two GE Fund and GE Lighting grants, totaling $140,000, presented to the Lighting Research Center on May 15, 2001. On hand for the presentation ceremony was the granddaughter of a man who beat the odds to help Thomas Edison develop the light bulb.
120 years ago, Lewis Howard Latimer, an African-American Civil War veteran whose parents had escaped from slavery, worked on a team that assisted Thomas Edison in developing the electric light bulb. Edison struggled with filaments that burned out after barely more than a day's use. Latimer solved that problem by developing a carbon filament-and we've lived in a brighter world ever since.
To honor this remarkable man, the Lighting Research Center and GE Lighting dedicated the "Lewis Howard Latimer Research Conference Room" at the research facility in Troy. Matthew Espe, President and CEO of GE Lighting presented the scholarship grants at the dedication ceremony. "The aim of these grants is to have better prepared, broader, more diverse students who challenge our ways of thinking, driving us into the future and making us better than we are today," said Espe.
| | | |
| --- | --- | --- |
| | | |
| Matthew Espe, President and CEO of GE Lighting. | Matthew Espe; Dr. Mark Rea, Director of the Lighting Research Center; and Dr. Winifred Latimer Norman view book about Lewis Howard Latimer. | Left to right: Russ Leslie, Associate Director of the LRC; Dr. Winifred Latimer Norman; Deborah Nazon (RPI class of 1985), Assistant Provost for Institute Diversity; Matthew Espe; Howard Brandston, LRC adjunct professor. |
The GE Fund is a $20 million, 10-year investment to increase the number of minorities and women in business, engineering, and science. The funding for the LRC will provide a full scholarship each year to a minority student in the MS in Lighting program. The LRC will use the remainder of the funds to attract minority students to the program.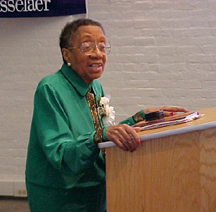 Dr. Winifred Latimer Norman
Winifred Latimer Norman, Ph.D., Lewis Latimer's granddaughter, is a retired social worker, who, in addition to working for social justice worldwide, promotes awareness of her grandfather's contributions to society. She saved her grandfather's house from demolition and turned it into a museum in Flushing, New York.
Perhaps few Americans know of Lewis Latimer's role in the development of technology, including the fact that he assisted Alexander Graham Bell in patenting the first telephone…or that he invented a water closet for use on trains, as well as a forerunner to air conditioning.
In addition to Dr. Norman and Matthew Espe, speakers included Fred Miller, President and CEO of Kaleel Jamison Consulting Group, Mark Rea, Director of the LRC, and Howard Brandston, adjunct professor at the LRC. Among the many Rensselaer officials attending the dedication ceremony was Deborah Nazon, RPI class of 1985, assistant provost for institute diversity. Ms. Nazon serves as executive director of Rensselaer's Diversity Advisory Board.