Energy-Efficient Lighting for Homes Showcased in Saratoga Project
The LRC is reaching out to home builders and manufacturers and distributors of energy-efficient residential lighting products. As part of this effort, LRC researchers have joined with Belmonte Builders in Clifton Park, New York, to demonstrate energy-efficient lighting in a residential setting. The project, sponsored by the U.S. Environmental Protection Agency and ENERGY STAR®, will promote energy-efficient lighting in new residential construction over the next three years.
"We've done the lighting design at one house in Saratoga, New York," Patricia Rizzo, project manager for the LRC, explains. "It opened as part of a showcase of twelve homes in Saratoga County on September 28. In our demonstration house, posters describe each energy-efficient product used, and we're asking people to fill out questionnaires to see how they react to the products."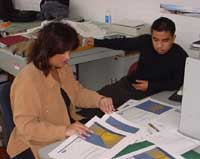 Rizzo continues, "Belmonte Builders is a very pro-ENERGY STAR® builder, so we're pleased to be working with them." Others are participating, too—most of the fixtures, ballasts, luminaires, lamps, and controls are donated, as are the ceiling fans used in the project. Participating manufacturers include Alkco, Decotex, Dreamscape, Lightolier, Prescolite, Seagull, Westinghouse, Watt Stopper, Lutron, Advance Transformer Company, OSRAM Sylvania, GE Lighting, Kichler, and Bartco.
The project also includes occupancy sensors and dimming controls to reduce energy consumption even further. "We want to demonstrate the creative effects you can use to make a home's visual environment more interesting and control and distribute the light more effectively at the same time."
This project is part of a larger study. "We want to assess both the supply of and the demand for energy-efficient products," says Rizzo. "We want to know whether these products will be available for replacement luminaires in existing homes. We also want to see the consumer's reaction to these products in a residential setting, and whether consumers think it's worth the extra initial investment in energy-efficient lighting to get the results we know are possible."
Even before the opening of the showcase, the LRC had already collected one data point. Rizzo reports, "The owners of the house are very excited about trying out the new concepts and technologies, and they're happy to be part of dispelling the myth that energy-efficient lighting has to be ugly."
The next part of the project will be a workshop the LRC will conduct in November for builders and manufacturers on energy-efficient lighting for new construction. For more information about the workshop, or to sign up to participate, contact Patricia Rizzo at rizzop@rpi.edu.