9. Other Applications
LEDs are available in a range of colors for applications such as internally-illuminated exit signs.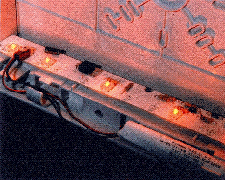 Red LEDs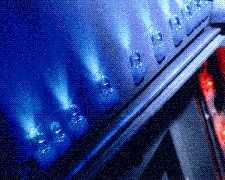 Blue LEDs

Green LEDs
Other applications for LEDs should be actively considered by LED and lighting manufacturers. LEDs have been used and proposed for use in a number of visually critical applications. One of these applications is exit signs (Boyce, 1994; Bierman, 1995, 1998a), where LED products make up 50% of the exit sign market (Conway et al., 1997), spurred in part by the U.S. Environmental Protection Agency's ENERGY STAR™ product labeling program. Other applications for LEDs include automotive signal and interior lighting, large-screen television displays, and backlighting systems for liquid-crystal displays (Hodapp, 1997). With advances in LED technology, other potential applications could include task light for reading, wall sconces, downlighting systems for general illumination, and agricultural lighting applications (Schuerger et al., 1997). At the same time, it appears that caution in promoting LEDs for lighting applications in the near term would be prudent as LED technologies mature, particularly "white" LEDs.
TABLE OF CONTENTS
1. INTRODUCTION
2. TRAFFIC SIGNALS
3. CODES AND SPECIFICATIONS
4. ENERGY
5. COST
6. VISIBILITY
7. OPERATION: POWER AND ENVIRONMENT
8. MARKET ISSUES: SUPPLY AND DEMAND
9. OTHER APPLICATIONS
10. PRELIMINARY CONCLUSIONS AND RECOMMENDATIONS
11. REFERENCES