3D Printing for Lighting News
Contact: N. Narendran
narenn2@rpi.edu or (518) 276-7176
LRC Graduate Student Wins Thesis Prize for 3D Printing Research
June 25, 2021
Lighting Research Center | Troy, New York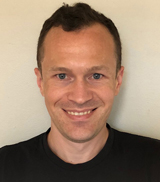 LRC Graduate Student Daniel Reinhard.
Rensselaer's Lighting Research Center congratulates graduate student Daniel Reinhard who has been awarded the 2021 IESNYC Thesis Award from the New York City chapter of the Illuminating Engineering Society. Daniel's master's project, titled "High Application Efficacy with 3D-Printed Custom Optics for Indoor Lighting Application," sought to determine if custom optics designed and 3D printed can be used to increase energy efficiency in the illumination of an interior space such as an open office.
The master's project is a graduation requirement of the M.S. degree in Lighting. Custom optics is one of several areas in which the LRC is exploring the potential for 3D printing.
Daniel, who graduated from Rensselaer last month, was previously awarded the Lighting Research Center's Bailey Scholarship and the Designers Lighting Forum of New England 2020 scholarship.
The IESNYC Thesis Awards are given to three students selected by their professors for demonstrating excellence in lighting design and/or research, and represent the intellectual insight, rigor, and quality standards as set forth by their respective school departments and each student's thesis committee. Recipients must be a degree candidate in a graduate-level lighting program at the New York School of Interior Design (NYSID), Parsons School of Design at the New School, or Lighting Research Center (LRC), Rensselaer Polytechnic Institute (RPI) School of Architecture. Recipients have the opportunity to present their thesis projects to the New York City lighting community at a special presentation event and eligible for consideration to be sent to the IES Annual Conference and present their work.
Since 2015, the LRC has been exploring the benefits and challenges of 3D printing for lighting applications, and in 2019 established the ASSIST Additive Manufacturing for Lighting Consortium. Learn more at https://www.lrc.rpi.edu/programs/solidstate/3DPrinting.asp.