3D Printing for Lighting News
Contact: N. Narendran
narenn2@rpi.edu or (518) 276-7176
LRC presents 3D printing for lighting research, announces upcoming 3D printing workshop
September 19, 2022
Lighting Research Center | Troy, New York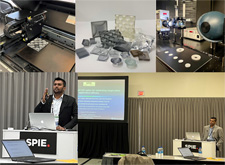 The LRC's 3D printing research was presented this summer at SPIE and IES conferences.
The Lighting Research Center recently presented new research showing the ever-growing potential of 3D printing for lighting component and fixture manufacturing. In August, four papers were presented at the SPIE Optics+Photonics conference in San Diego regarding novel designs of 3D-printed lenses and optics for LED lighting systems. An additional paper was presented at the IES Annual Conference in New Orleans on the 3D printing of components for connected lighting systems. LRC doctoral student Akila Udage took a key role in developing the design methods and in evaluating the 3D-printed prototypes created for these studies, with further work and guidance from LRC staff Dr. N. Narendran, Dr. Indika Perera, and Jean Paul Freyssinier.
Later this fall, the LRC will hold its annual 3D printing for lighting online workshop. This live, interactive course is designed for professionals from the lighting, 3D printing, additive manufacturing, and related industries to understand the possibilities of 3D printing for lighting. The course includes the latest research and presentations from industry leaders in 3D printing for lighting. The course will run from November 2 to December 7, 2022.
The studies presented at SPIE include:
Achieving multiple beam patterns using a 3-D printable lens by altering the positioning of LEDs
This study focused on developing a novel method to design optics that can create multiple beam distributions via the relative positioning of the LED, and evaluated a 3D-printed lens to validate the optical design model.
3D printed internal cavity lens for illumination applications
In this study, the LRC designed and 3D printed a lens with planar exterior surfaces and internal cavity structures for beam shaping in order to investigate the possibility of using 3D printing to create lenses with complex geometries not possible with traditional manufacturing methods.
Optimizing 3D printable refractive spherical arrays for application-specific custom lenses
This study focused on developing a 3D printable refractive lens structure that collects luminous flux from the LED light source and redirects it into a spherical lens array, where the array structures are designed to direct the accumulated luminous flux onto a target plane to increase the application efficacy and uniformity.
Designing 3D-printed LED optics for optimizing target plane application efficacy
This study discusses a design methodology for creating a custom reflector design for an LED fixture and evaluates the performance of 3D-printed reflectors manufactured with different 3D printing processes, parameters, finishing, and post-processing methods.
The study presented at the IES conference:
The benefits of 3D printed antennas in connected lighting systems
This study evaluates the benefits of using 3D-printed antennas in the connected lighting system to improve system reliability while assessing different configurations of 3D-printed antennas and their feasibility in lighting applications.
Papers for each SPIE study were published in the SPIE conference proceedings of either Current Developments in Lens Design and Optical Engineering XXIII (Conference 12217) or Novel Optical Systems, Methods, and Applications XXV (Conference 12216). The IES paper is available on the LRC's 3D Printing for Lighting website.
For more information about 3D printing for lighting at the Lighting Research Center and the LRC's ASSIST 3D Printing for Lighting Consortium, visit https://www.lrc.rpi.edu/programs/solidstate/3DPrinting.asp or contact N. Narendran, email: narenn2@rpi.edu.