3D Printing for Lighting News
Contact: N. Narendran
narenn2@rpi.edu or (518) 276-7176
LRC Students Reimagine Lighting Through 3D Printing
May 24, 2021
Lighting Research Center | Troy, New York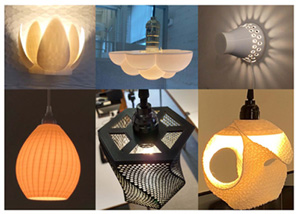 Students in the Lighting Research Center's Lighting Workshop class produced innovative light fixtures through 3D printing.
In keeping with tradition to prepare students for the future of lighting, the Lighting Research Center at Rensselaer Polytechnic Institute recently engaged its MS in Lighting students in a class project to create 3D-printed lighting fixtures.

Through the LRC graduate program's Lighting Workshop course, students learned about the state-of-the-art of 3D printing for lighting and the steps for building a light fixture – everything from the design process, to how to select a printer type and printing material, to the actual printing and post-processing. The Lighting Workshop, taught by LRC professor and director of graduate education Nadarajah Narendran, is a required research and design studio course integrating scholarship, technology, design, policy, and entrepreneurship in an intensive, project-specific context. Students learn about the latest lighting research and outcomes and gain hands-on experience with application trends including horticulture lighting, 3D printing, and state-of-the-art advanced lighting technologies.

"Students were asked to design an aesthetic pendant or wall sconce to be displayed as a show-and-tell exhibit in the LRC's main lobby and to create it using the additive manufacturing facilities here at the LRC," said Dr. Indika Perera, LRC research scientist and assistant course instructor. The LRC laboratory houses five 3D printers with different features, which LRC research staff have used to test different printing materials for lighting components and to create innovative light fixtures.

For the Lighting Workshop project, students were asked to create a luminaire housing design that would showcase the advantages of 3D printing over traditional manufacturing methods for lighting. They then had to deliver a functional prototype, including the LED source and other required mechanical and electrical elements. "Overall, the prototypes that the students delivered were exceptional examples of how the lighting industry can use 3D printing to innovate," said Dr. Narendran.

LRC graduate student Daniel Reinhard said, "The section on additive manufacturing was one of my favorite parts of Lighting Workshop. I very much enjoyed learning 3D modeling software to design the pendant. It was great to use this technology to be able to see a design come to life with the quick prototyping and customization that additive manufacturing allows."

Additive manufacturing (AM), better known as 3D printing, has been rapidly changing other industries such as automotive, aerospace, and medical technology, and now has the potential to solve many of the issues faced by the lighting industry. The benefits of AM for lighting include the ability to customize components and fixtures for better quality lighting, lower costs for transportation and storage, and create community-based manufacturing businesses offering local jobs.

Since 2015, the LRC has been exploring the benefits and challenges of 3D printing for lighting applications, and in 2019 established the ASSIST Additive Manufacturing for Lighting Consortium. Learn more at https://www.lrc.rpi.edu/programs/solidstate/3DPrinting.asp.